Mei Yen style eh ..., this is specially dedicated to her. It is unfortunate that she can't join us when we feasted on lobster that night! But no worries, we can always arrange for another session *grin*
Please forgive me if my post lately had been kind of a hush, hush and not too inspiring. I've been slacking lately in writing and photography department as I'm rushing day in day out doing so for my real job. Finding the right word/s and spending longer time to describe my food, my day and whatever that's happening around me had been difficult and
all
I can think of end of the day when I reach home is SLEEP.
Bear with me yeah.
Two nights ago, BBO invited a few bloggers over to a chinese restaurant for a food review dinner. I've read about their food in many Malaysian blogger site, hence they are not virgin when it comes to dealing with blogger gatherings. Before sampling the food, we were given simple note for reference. The Head Chef were there to share with us whatever information we want to know too.
After ooohhh-aahhhing the list given, the first dish arrived.
Lobster Sashimi (RM13 per 100grams)
. Reason for the low price was, it is from our shore. I am truly amazed that, proven again, Malaysia is rich in so many ways. If you are keen to try this out, do order at least 2 weeks in advance as, supply of such size and quality is kinda challenging and they have to source for it.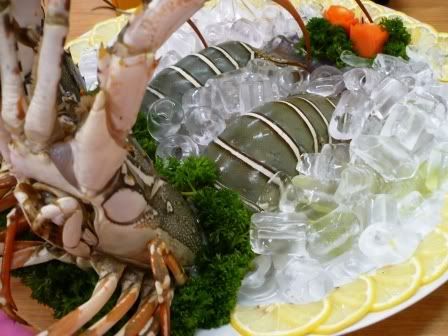 I've tried lobster a couple of times, and I've never been such a huge fan as its meat can get rather tough. But our local breed here is a typical Malaysian. It's flesh were firm but not tough. Lack of exercise lah.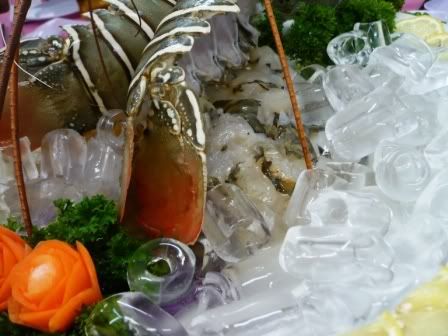 Chef Steven had prepared a pot of Superior Stock for us to poach our lobster in. Not only the lobster came out wonderfully fragrant after a good soak, the stock were so good that we can't resist sipping them like a soup. Superior stock usually takes up very long boiling period and theres no exception here AND I was told that this stock took 2 whole days to boil!
Other than that, Chef Steven had also shared his secret ingredients of this stock. All you cooks out there take note. The secret ingredient of this superior stock is Old Chicken, Chinese Ham (For Thoi), Red Dates and Chicken Feet. Apparently, Chicken Feet acts as a natural starch agent for the stock.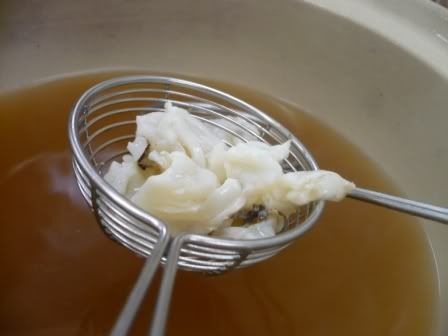 The last time I ate this dish was during my youngest uncle's wedding in Jalan Pudu, and that was like 18 years ago! It is such a traditional dish and like anything traditional food, a lot of work goes into its preparation hence, you can't really find this delicacy easily anymore. Naturally, I was excited for this
8 Treasured Duck (Pat Pou Nyap) priced at RM60
.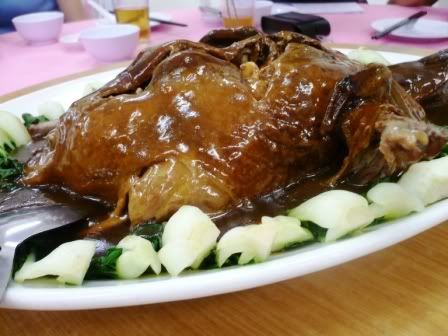 While the outer looked like any normal braised duck in light herbal based broth, the stuffing inside were full of treasures! There's chestnuts, lotus seed, lap cheong (chinese sausage), two types of mushrooms and err ... can't remember what else.
I love this duck very much. Not only was it tender and flavourful from all the seasoning and stuffing, you get to nibble on the extra bits from the inner stuffings too.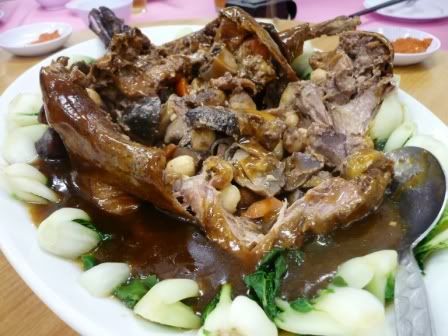 While we got ourself busy with the duck, Chef Steven had quietly sneaked back to the kitchen to prepare us a wonderful, wonderful, WONDERFUL ... (I can't stressed this enough) plate of
Lobster Noodle (Price N/A)
. He had used the leftover lobster head to make us a yee mee with a difference. Not only was the sauce really flavourful, the yee mee was thick, al dente and chewy.
I had three big servings.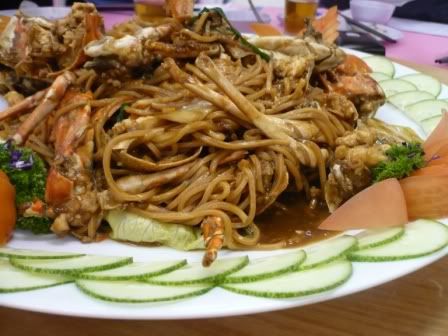 Up next were,
Dried Oyster with Stuffing - Hou See Fatt Choy (RM50).
Okay, this dish sound so chinese new year isn't it. Well, it is for Chinese New Year and if you go now, you will be dissapointed yeah, so do note. If you are keen to try this dish, Mei ChiXuan will start serving their chinese new year food a month before and until Chap Goh Meh. The fishball were very flavourful and tasty, however, I'm not such a fan of Hou See (dried oyster).
If you are, this is a good choice.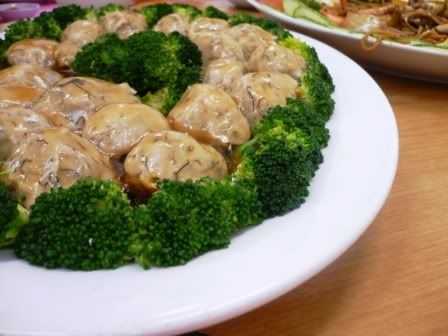 Breaking away from heavy stuff in the middle of chinese dinner is welcoming. What I like about this
Golden Pumpkin with Tofu (RM20)
were, the tofu were homemade without any preservative or additive. The pumpkin sauce were a good match to the delicate tofu too.
This is a must order. It is good for you.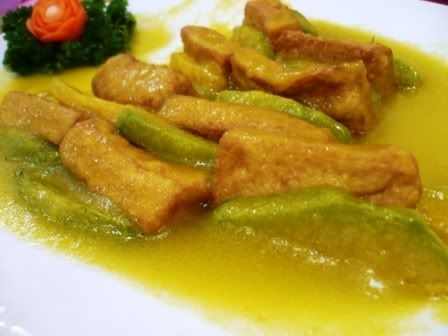 Like many of their other dishes which requires tedious preparation, this
Boneless Fish with Meat Paste (RM18)
came at a surprising price. Though the whole fish resembled a real fish in appearance with skin, tail etc ... what's beneath its skin were actually tenggiri fish paste. Go figure how its made *big grin*
The other unique thing about this fried fish is the sauce. Instead of using normal chinese sauce such as soya, or plum ... they had used Barbecue Sauce of the west. Not only that, it was kinda spicy too. I'd never imagine that Tenggiri flavour and barbecue sauce would work, but it does.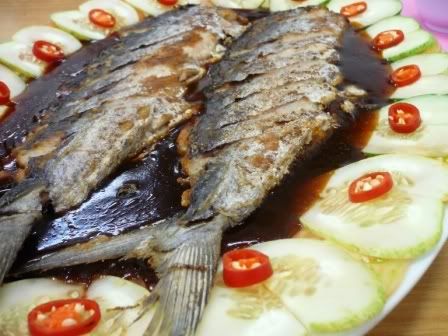 If I were to tell you that love everything here, I would be lying yeah. Like any food review, no matter how good a place is, there's always one dish that can't live up to the ones expectation. In this case, my expectation. This dish here
Pak Fan Yee (Deep Fried White Baits) priced at RM20
tasted mediocre to me.
Though it was one of the best selling item in the restaurant, it it tasted bland but again, it could be due to the fact I ate too much of the flavourful fishpaste and barbecue sauce prior to this.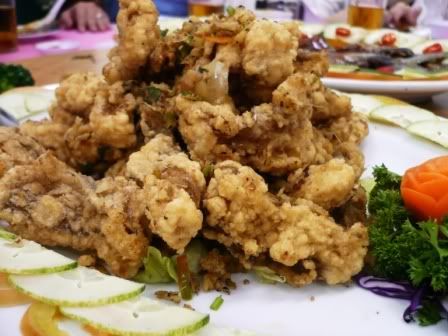 I've just realised that I've missed out on this dish called
Fried Potato with XO Sauce (RM15),
which essentially is a recipe that Kylie Kwong had feature in her program before. Though it was tasty, with a hint of chilli, I think everyone was stuffed by then, hence it was half untouched.
It is a good thing that the dessert that followed were all light stuff. First to arrive were a light brown jelly with selasih seed. I love jelly, so no complain there. Oh, oh .. you know what ? I'm going to make jelly tomorrow *big grin*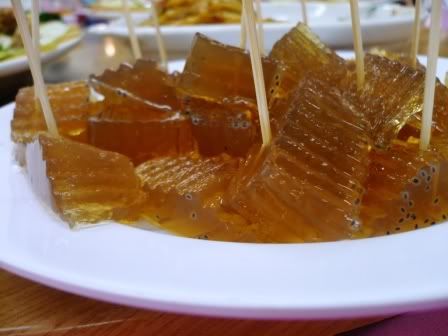 Last but not least, Sunny from BBO brought out his pride and joy to the table for us to savour. Its a Japanese cheesecake with Chestnut Cream and Custard. Price ? Not so sure, however, when you talk about good stuff .. just buy and eat ya'll. For those whom likes their cheesecake heavier than the normal Japanese ones, but not quite as heavy as the western ones, this is a good choice.
What I'd also like about this cake is, its Chestnut Cream which went really well with cheesecake. The custard was good too. Its real stuff and not those I made, where I use Custard Powder.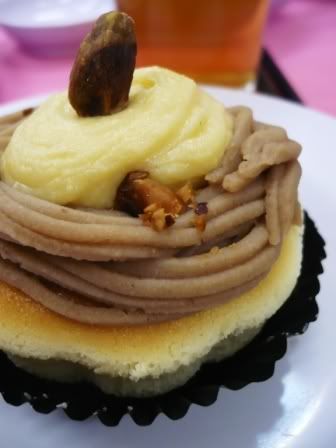 What can I say. Good chinese food that I love but never really get many chances to try them. It is not often that I get to eat chinese dish like this; be it among family member or among friends hence, this is luxury to me.
Thanks BBO for organising! And to Chef Steven, thank you for hosting us.
I'm full. Burpppp ...