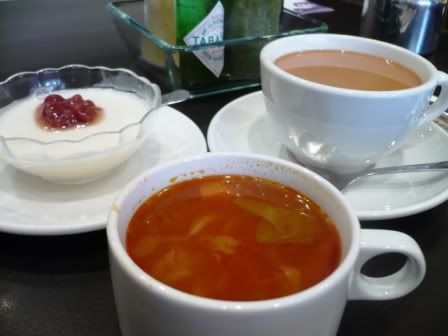 Many old school master calls fusion food as confused food, but look around us these days. It works doesn't it ? I'm up for it, as long as it taste yummy and blend of the two world does not upset my stomach too much, I think its a good think in the culinary world to invent more exciting menu's and food to satisfy curious, adventurous tastebud.
Three typical cuisine which I personally categorize under chinese fusion are Vietnamese, Hongkong and Malaysian. I like the way how Vietnamese borrows the french, and incorporating them with their local herbs and ingredient. Even their national dish Pho, is a frenched up. As for Hongkong dishes, you walk into any charchanteng and you'll be greeted with any imaginable east and west ingredient. Rice dishes with cheese, noodle with ham, etc ...
I love it. It works really well.
My lunch journey took me to a typical Hongkong Char Chan Teng few days ago. Since they'd just introduced a new series, why not try ? Kicking off with a cup of Borsch Soup, one of my favourite sweet and sour soup - great to wake up my appetite. My set lunch came with a cup of typical hongkong milk tea and a small bowl of custard dessert. Both were not too bad - infact for the price of less than USD4, where else can you find such a stealer combination?
In my lunch were a piece of fairly sized salmon, scallop, abalone (the real thing, which surprised me), mussel, squid ring and baby octopus at the far right, looking red and angry - not wanting to be ignored by its superior seafood friends. The quality of the seafood were not compromised, it was fresh, with the exception of scallop which tasted more like scallop ball - laden with lots of flour and other preservatives. When you order this dish, you can opt for three varieties of cheeses - came highly recommended were New Zealand cheese by the wait staff. It was good. Creamy, soft and mildly flavourful.
All and all, I enjoyed this plate and the overall lunch. It is a safe bet and for the price of
RM16.90
before tax for a 4 course set lunch.
Another confusion dish, ahem Fusion dish I mean ... but this time round, with a Malaysian kick and by default - its always with a dash of spice due to our heavy influenced of cooking style by the Malays and the Indians. My tea break was at a typical chinese cafe called Delectable, just over Tesco's ground floor facing the Curve's side entrance. It is a no-frill place, with simple plastc chair and metal table which Coffee bean started off with many years ago.
I came here solely to fill up my appetite.
This is
Chee Cheong Fun (steamed rice noodle) with Curry Chicken gravy (RM4.90).
Another combo that works really well, and its one of my favourite as I grew up eating lots of it. If you're not too fussy and is looking for a quick fix around these are, then this is recommended. Otherwise, I would prefer my Curry Chee Cheong Fun to come with much thicker coconut milk, just like how Nyonya Colours in 1Utama serves them.