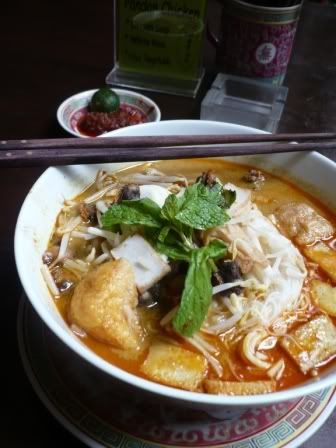 Something is not right with me. I have been craving curry laksa for the past week and this is my third bowl already! I really don't mind enjoying a bowl everyday. If only I'm blessed with good genes *wink*
Curry Laksa. Hot, spicy, flavourful, creamy, fragrant and full of treasures swimming around the bowl. How does one define a good bowl or not so good bowl. Well, I would say its personal preference. Some like them hot, while I prefer them milder. Some like them slightly watery, while I love them creamy and sinful. While some would not down a bowl without the magic ingredient of fresh, raw "see hum" aka cockles, I sometimes detest it as it can get pretty bloody. But whatever it is, the part I dig most were towards the end where the bowl of Curry Laksa is so good that you wanna lick up your bowl. Alternatively, wipe your bowl clean with a helping of white bread ... yummyyyyyy.
Charms Curry Laksa (RM8.90)
- bravo on the cooked cockles as I was not in the mood for raw that day, but I was dissapointed with the curry gravy. Not kicking at all.
Moving on to my dessert were this plate of
Banana Fritters with Vanilla Ice Cream (RM4.90),
which came as a surprise to me. The banana were wrapped in a springroll skin before deep frying them. I liked it. When eaten hot with the cold vanilla ice cream, it was marvelous!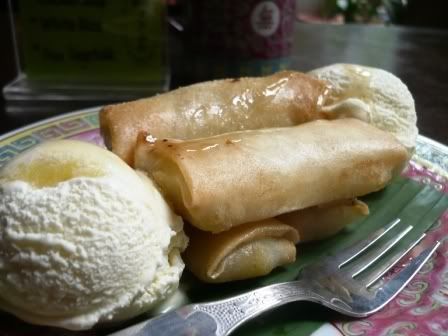 p/s : Am craving curry laksa as I'm writing this lol.