I was aiming to be the first blogger to blog about this wonderful dinner last night, but my body failed me. With my eyes trying its best to stay open while feeling the thumping ache coming from both sides of my shoulder, back and god-knows where else, not to mention too the dizzying after effect from the alcohol consumed earlier - I thought I'd still make it to be the first blogger to blog about this, by this morning until I saw
this
.
Never did I expect her to blog so quickly! Didn't she just mentioned that her draft box is full of unpublished article? Hehehehe ... feeling inspired huh Teckie :-)
Well, Teckieee ... it was a great night eh and thanks for your wine, though a bit light after all the kencang food consumed, it was still great neitherless to have that tipsy feeling throughout the whole night with you all. Loosen myself up a bit *big grin*
Anyway, I made my way to the blogged about The Elephant in Section 17, slightly early to get some early pictures before the crowd starts pouring in. The organiser (Lyrical Lemongrass, Precious Pea and WMW) did a great job hosting the dinner here with lovely lights, table settings, great food, great company and wait .. there's even award presentation too!
BTW, I won an award hehehe .. for being the
Enlightened One
. Wahhh ... I sound like I've reached a Nirvana stage in life eh ... hehehe, actually the award was given to me as I was enlightened finally, to join the TRUE blogging community after blogging in an isolated community for a longggg time. I'm in the family at last *big grin*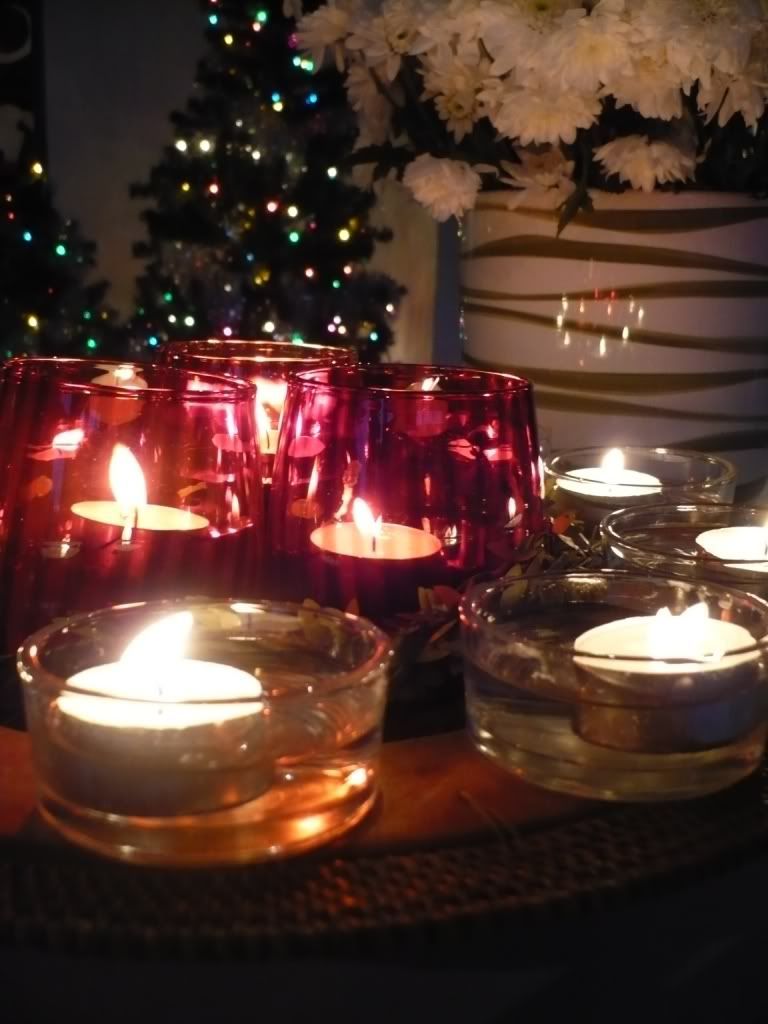 I went around snapping pics and found this cute, little Christmas ornament. It was hanging at the oddest place. Their floor lamp! To those at the far end corner whom I did not get a chance to chat with. Sorry ah, not able to squeeze myself into those corner, its too small lah. Anyway, wanna wish you guys Merry Christmas and a Happy New Year! *hugs*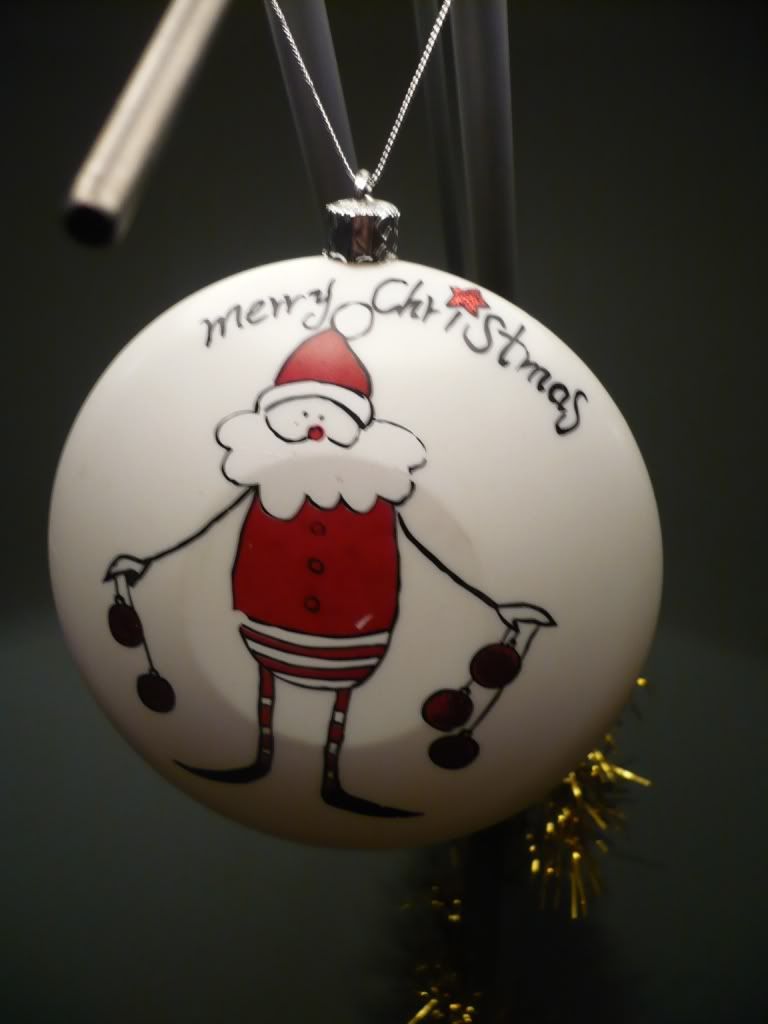 Back on the restaurant, The Elephant is a tastefully done up casual dining place. Their table settings last night lifted it further to give it a fine dining touch. Thai food never looked this chic.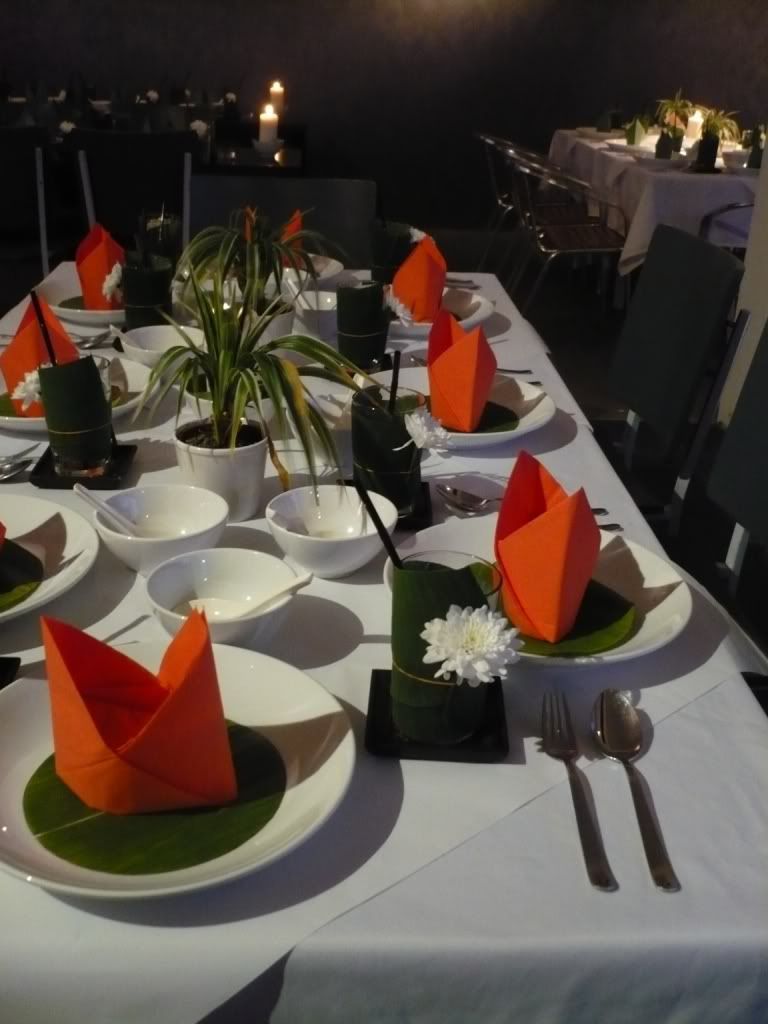 I choose the table closest to the window as it had good lightings. Seen here, view from my seat and bloggers (
Nic
whom came back a day earlier from Singapore to join us and
Jun
from Australia) chatting away with another unidentifiable blogger. Nice meeting you guys!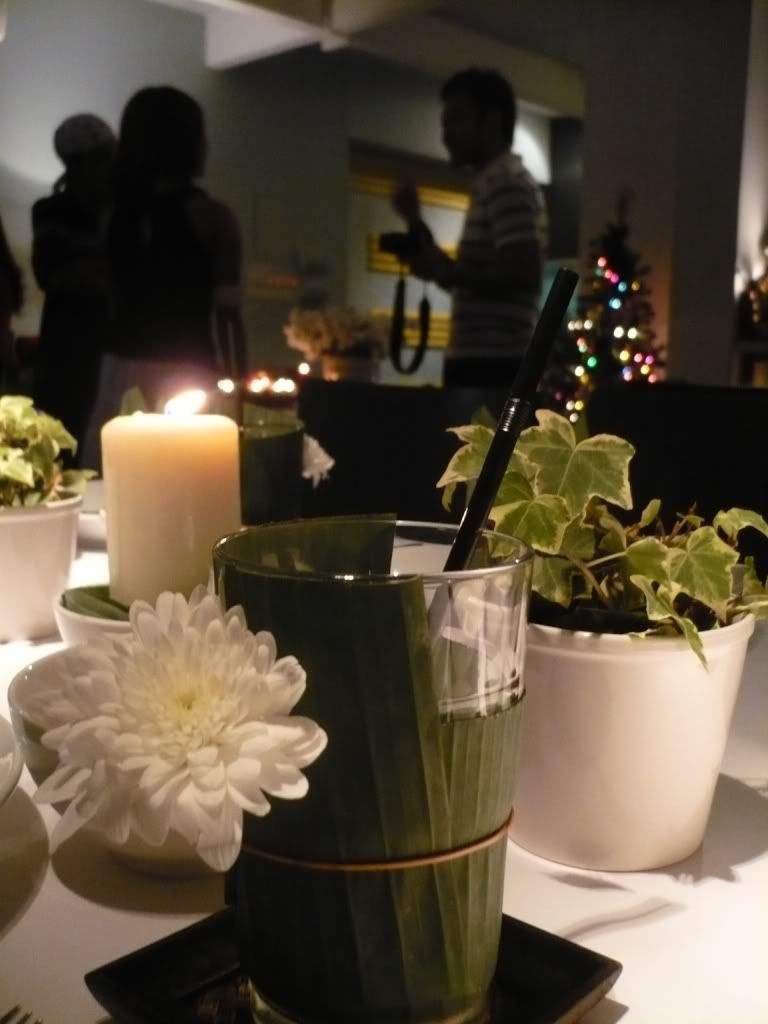 We chatted and chatted non-stop, and I'd totally forgotten that my tummy were drumming before I arrived! The first to arrive is ...
Brown Rice
.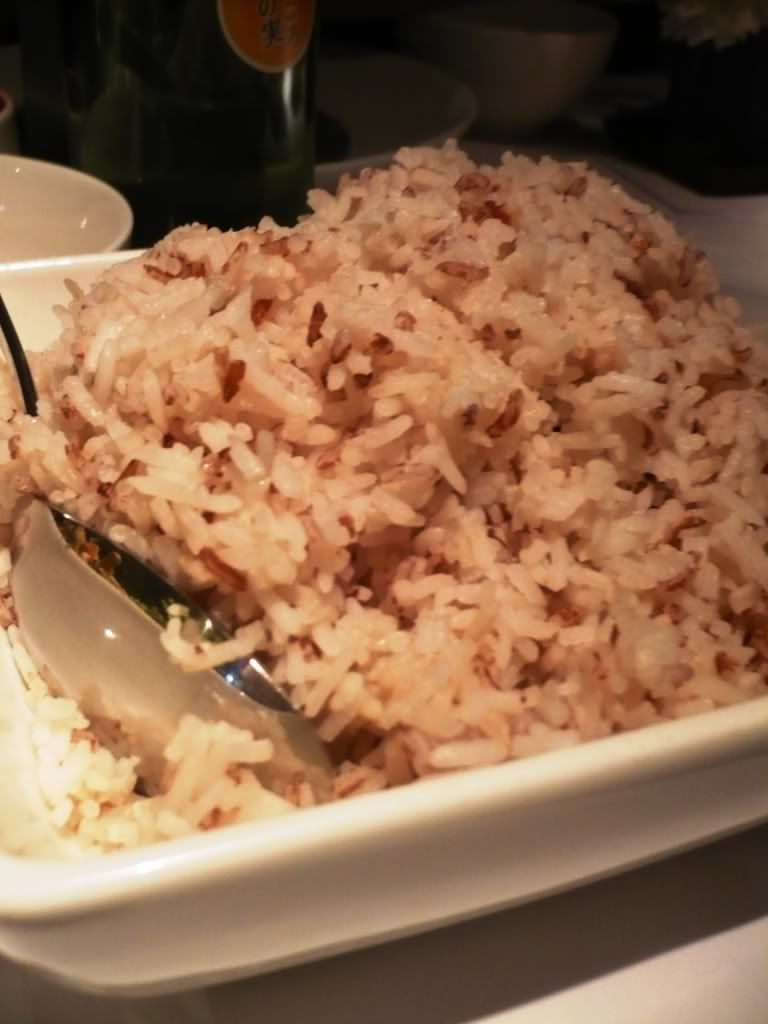 The dishes started arriving in a stream. Not in order; seen here is
Pak Choop Pang Tod (Thai Style Vegetable Tempura)
. It was a good batter, crunchier than the japanese version, the vegetable chosen were perfectly complimented.
Thailand is famous for its salad dishes, hence we had to had it. We dutilly finished a plate of
Somtom Malakor (Green Papaya with Dried Prawns with Peanuts).
It was pretty close to the ones serve in Bangkok, but not as sourish.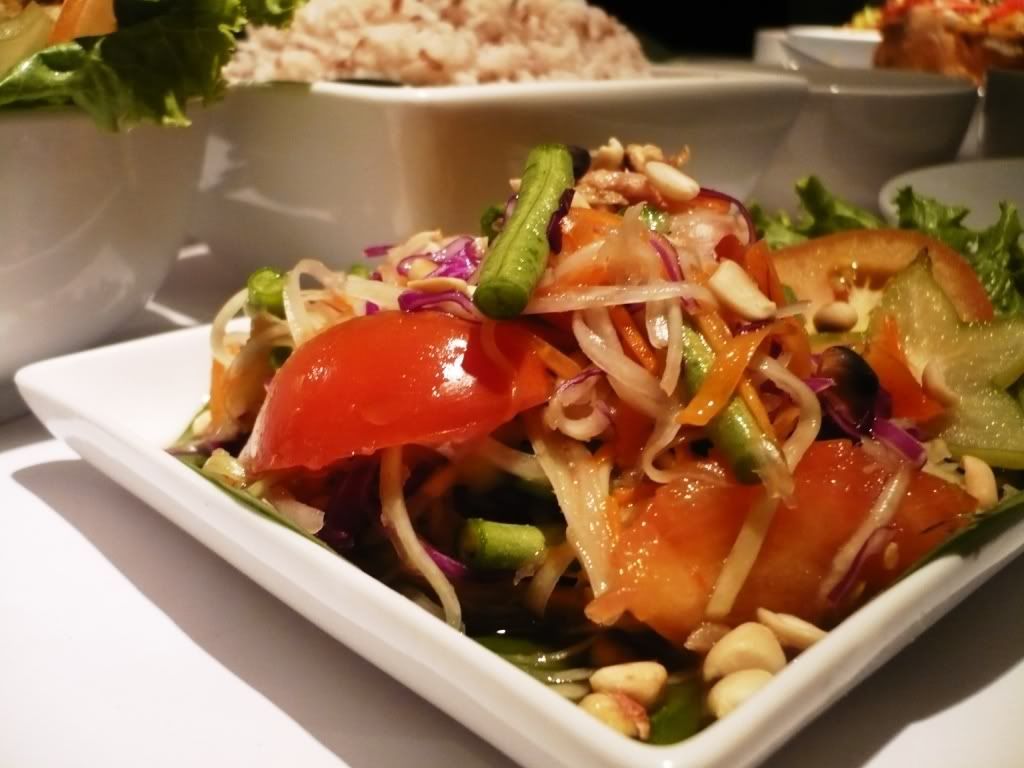 I love the dressing in
Kom's Chicken Wings with Mango-Kiwi Dressing
, however with the sauce soaking up the fried chicken wing, and then leaving them a few minutes of the table for food bloggers to "photo op" it, leaved a pretty much undesirable after taste. Instead of crunchy chicken wing, we had somewhat an inbetween.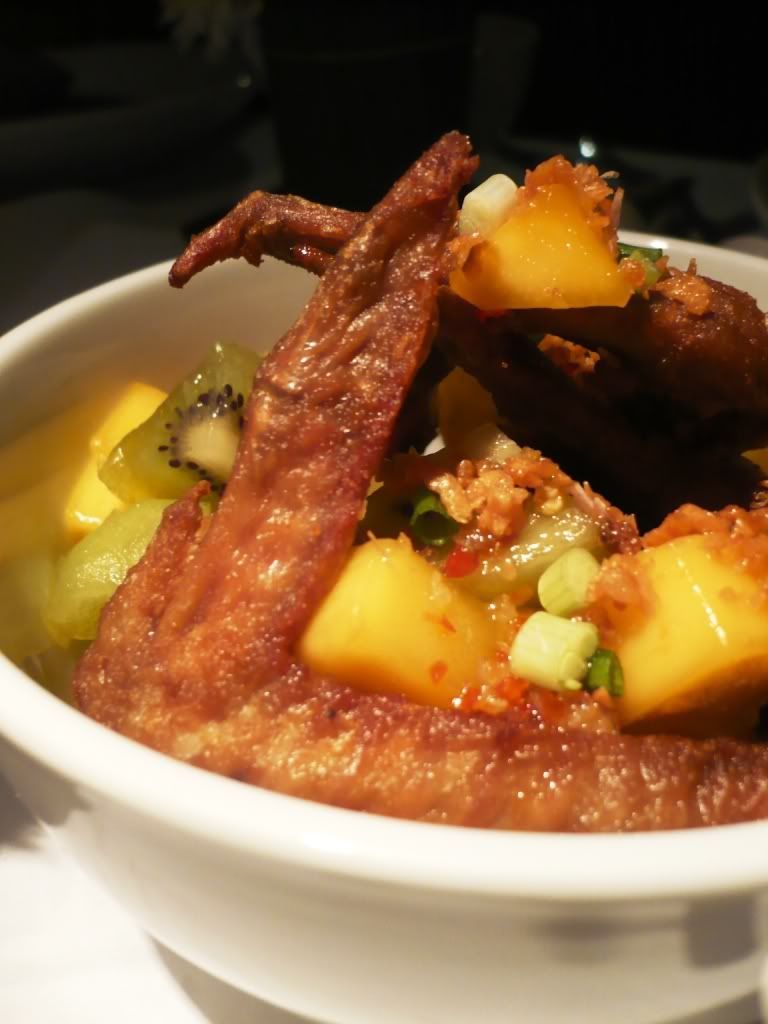 Chilled Lamb
- Not sure how good this is as I don't take lamb. But looks good to me!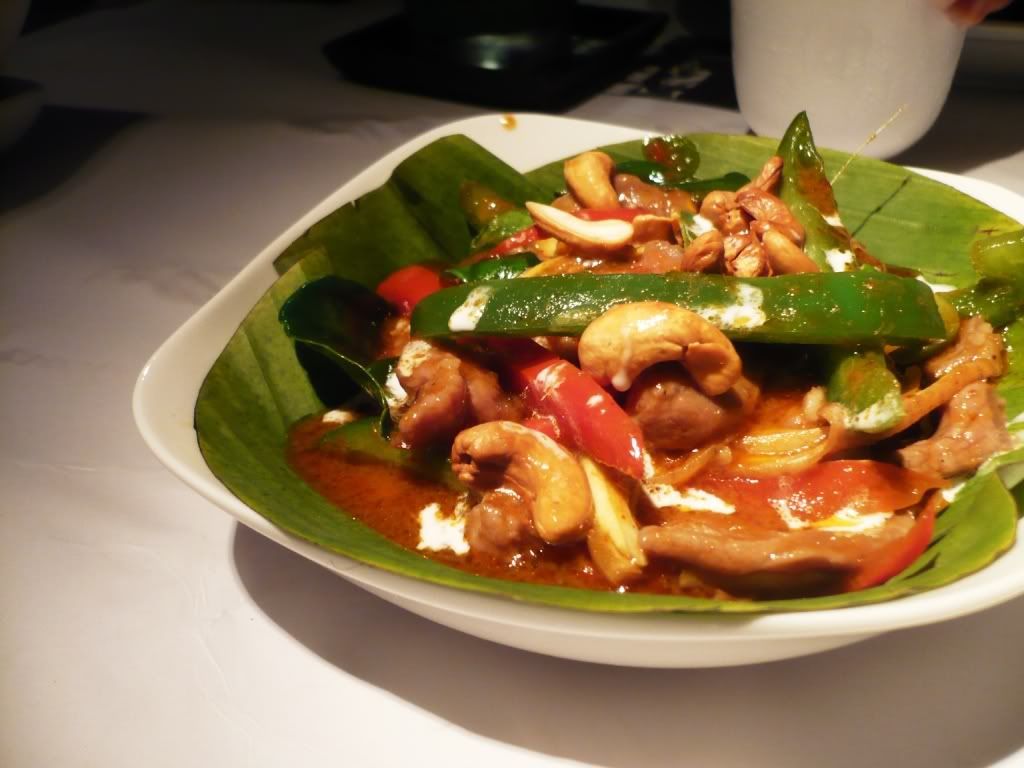 One of my absolute favourite of the night were their
Red Curry Duck with Konnyaku, Avocadoes and Rambutan
! The red curry sauce were kickingly creamy, perfectly spicy and, went really well with the tender pieces of sliced roast duck. To my surprise, I kinda enjoyed the konnyaku in red curry's which I had initially mistaken it for sea cucumber. Hehe ...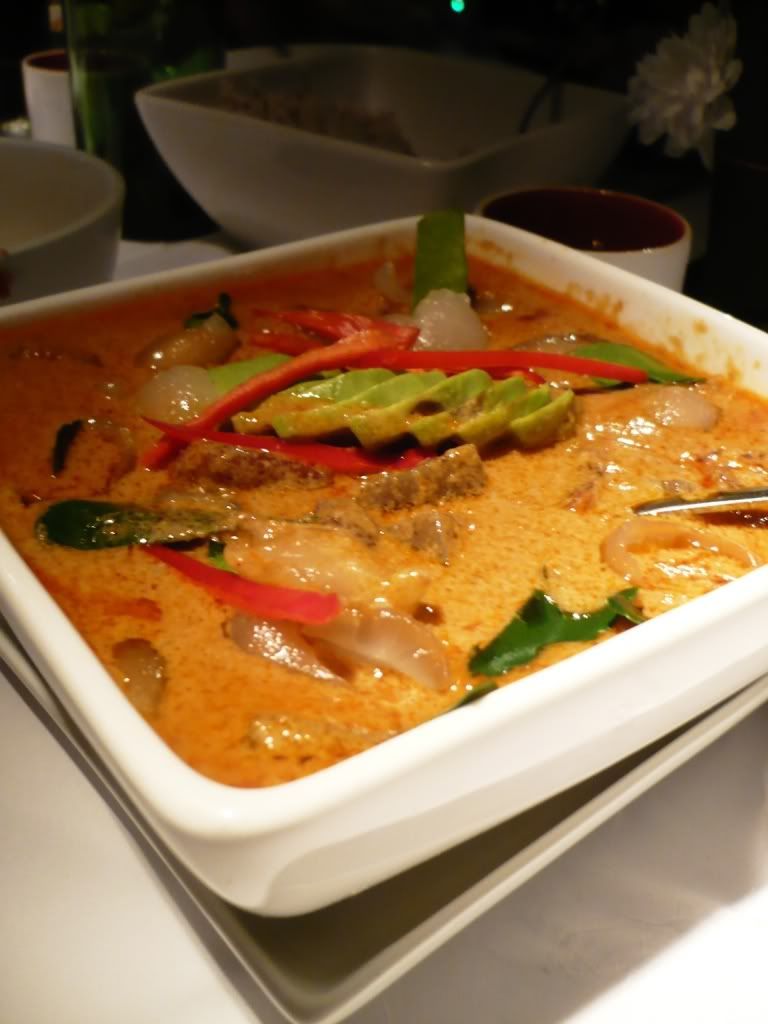 Proud and Commanding, that's our next dish of
Choo Chee Goong (Thai Yellow Curry with River Prawn)
. It's a pity that the river prawns weren't fresh, otherwise everything would have been wiped up clean. I did anyway, as I loveee the gravy very much. Creamy and tasty, it's a pity too that the gravy were a bit skimpy.
Something different from the Northern side of Thailand were their
Tom Klong
. Essentially, somekind of tomyum but unlike their southern cousin where its served primarily with prawns, squid and chicken, this came with fried fish cutlet. It was good, I liked it and kinda remind me of our Fish Head meehoon's fish cutlet but when cooked inside a very spicy, sourish based soup with a strong, sharp lemongrass taste ... its something you have to try to see if you like it. Very unique.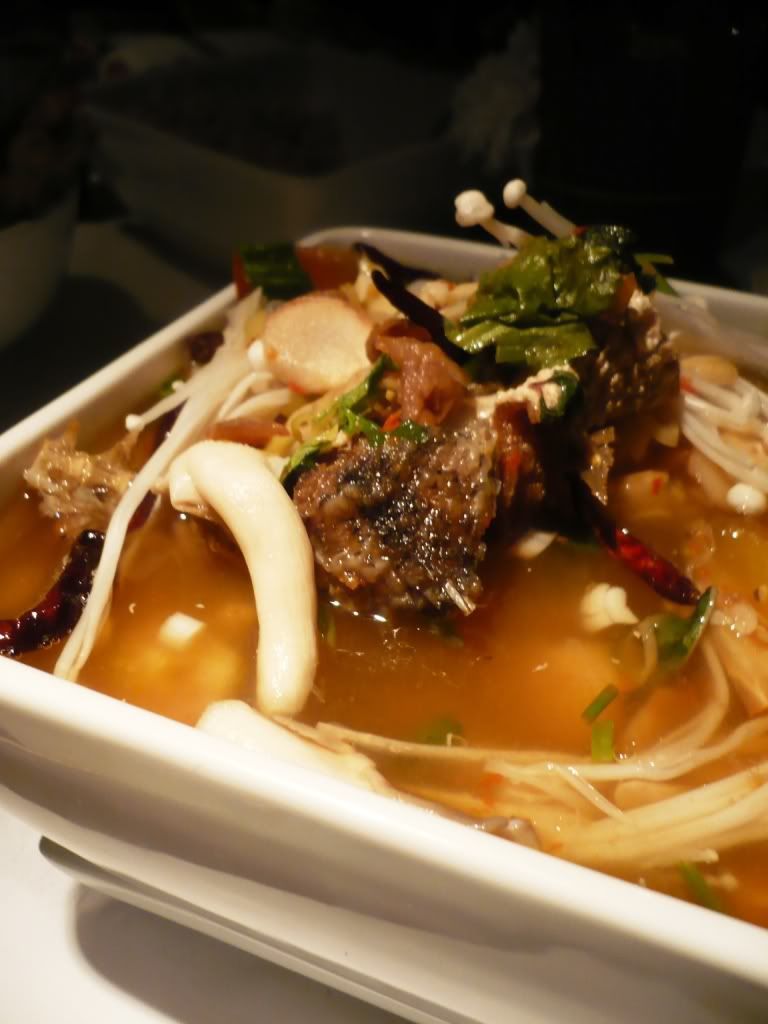 My plate. Everyone "sek fannnn"
Gasp! Our
Plah Nung Manow (Steamed Fish)
were stuffeddd to the brim! Poor thing. Luckily, you weren't wasted as you were fresh, firm and coated with a sourish, fragrant dressing. After a good steam, you were tasty and a hit.
Thanks Teckie for the wine!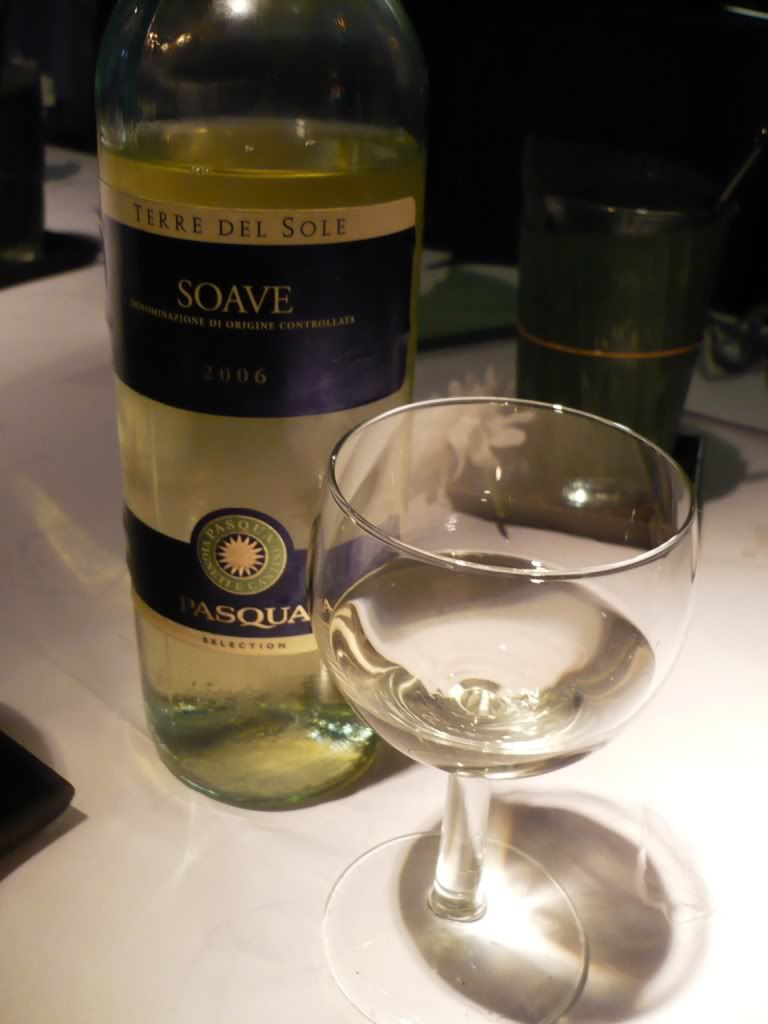 One of the weirder dish that keep me wanting for more. Wanting something cold and sweet more. Their
Sago Pudding with Thai Mangoes
were nice, but the temperature of it did not elevate it to what I'd love them to be. Pity.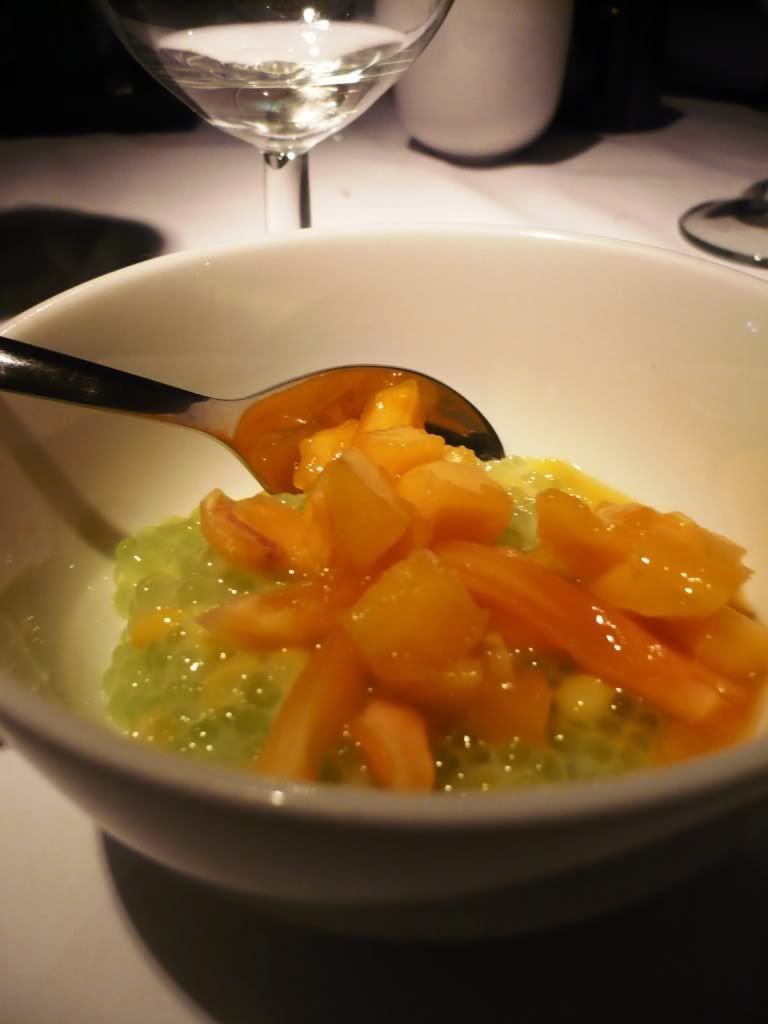 Thankfully, there's more dessert to save the day. Thanks FBB for sponsoring us this lovely, moist, fragrant, super yummyyy
Durian Cheesecake
, which I'd remember was even better than the one you let us taste last time. No idea what it is, the durian used, the content ? Whatever it is FBB, keep it this way .. it is VERYYYY good. Yum!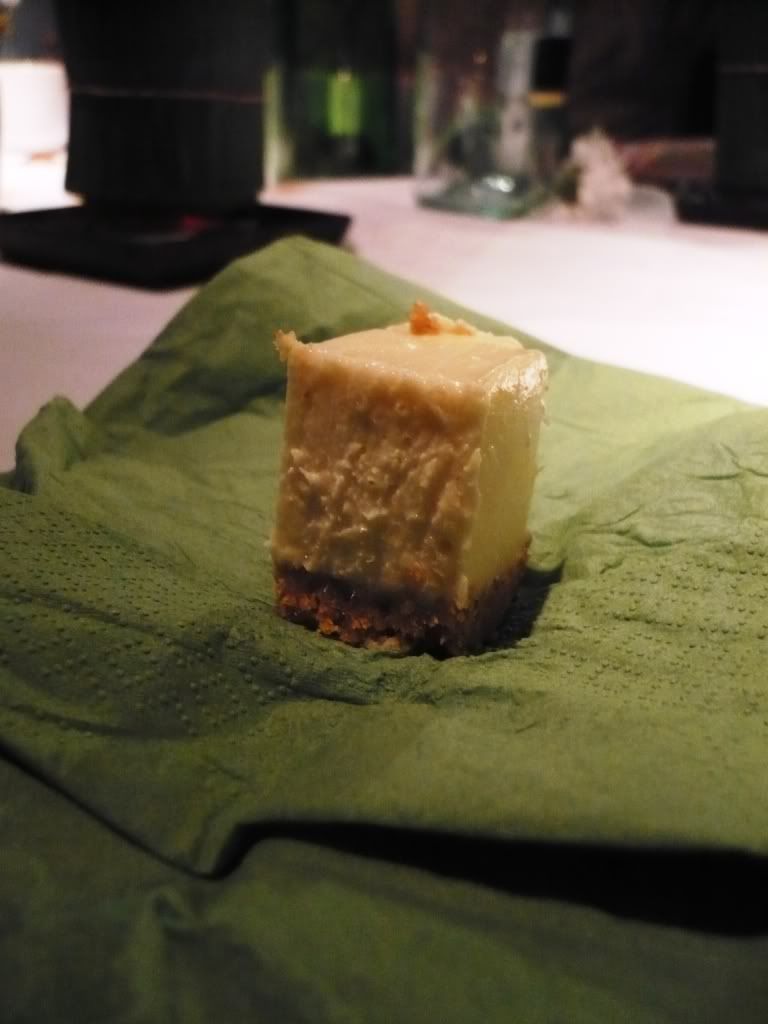 To that, I made my way home to my lovely bed. As I'm typing this, my tummy is growling and am still thinking of what to eat for brunch. Something light and healthy I hope, as I've feasted too much last night (over quota) hehehe ..
What about you food bloggers ? What's for breakfast and lunch today?