"Lianne-san, can we try out real JAHpanese food in Kuara Rumpur? " my guest requested.
Real japanese food? Since when our japanese food is not real? After getting an idea on what he'd been eating past two days, I finally understood why. My guest Osamu-san had tried several japanese restaurant in town, and sad to say, was not up to his expectation. It was good news to him neitherless, as he is on a japanese food tasting mission and if all goes well, we're going to have another exciting japanese food place to dine soon!
Since we were at Jalan Bukit Bintang, I thought it would be a great idea to show him our new kid on the block shopping mall aka Pavillion. With several japanese restaurant in there, I hope one strikes his fancy. After passing by all, we stopped at Kampachi. We ordered our drinks before looking at the menu.
Then ... he suggested we go elsewhere. It seems that the sight of too many bento sets turned him off. But, but, but .. I wanted to try Kampachi! Ahhhh, never mind, I can come back another day hence, we crossed the street right after and soon after, we found the perfect place for our food tasting.
Gonbei at Starhill.
I love the decor of the place simply because they used a lot of wood in their decor. Real wood and not cheap laminate stuff that many restauranteur replace with. The place was nicely done up. It had a striking bamboo architecture greeting us as we enter, and once inside, we were greeted with a long table where all the sashimi slicing action takes place. On the counter too were two hugeeeee container of homemade Plum Liquor, which surprised him as he'd presented me with THAT gift thinking that Malaysia does not have them.
The wait staff urshered us to a lovely spot not far from Sashimi counter, with my back facing gorgeous, textured wallpaper from Japan.
Let's start dinner ... drum roll ... (damn nervous okay, because don't know what to expect hehehe)
First to arrive were
Free Appetiser of Tamago
which I'd quickly popped them into my mouth. It was really different from what I've tried before as it was creamier and I can taste the freshness of the egg flavour. What surprised me were, how soft the centre curd turned out. Lovely.
Something I picked up here. Kyoto'ans eat their tamago with japanese soya sauce. They poured them over the bowl first, let the tamago soaked up the flavour before savouring it. I'm not sure how it taste like as I walloped them up before him showing me this! Bummer.
Every knows that I HATE fresh tomatoes. Hence when this arrived, I got pretty stressed out. Where shall I hide it ? Underneath the pile of salad ? But, but .. grrrrrrr, too complicated the mission so I told myself, JUST gobble them down lah.
I WAS WOWED! Japanese tomatoes taste different okay. It is so darn sweet, kinda like eating fruits and unlike our local cousins, the smell were rather delicate and welcoming. It had totally change my viewpoint on tomatoes. These are even better than the italian ones I've tried in several Italian cities!
The asparagus too, were absolutely good. Crunchy and fresh, the accompanying yuzu sauce were perfect. Good stuff.
Starter of
Tomato and Asparagus Salad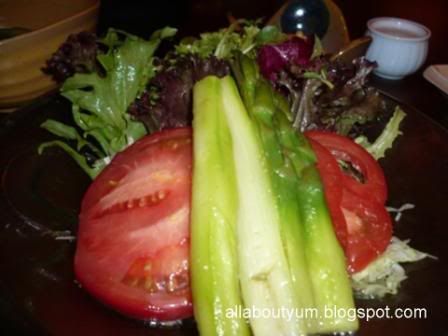 Earlier on, Osamu-san had asked if I take Sashimi. I think he must have saw my eyes lid up! Somethings need no words eh *big grin* After the lovely start, the three variety of
Sashimi
came but ei, there's a bonus too. In my platter were
2 slices of Sake (Salmon), 2 slices of Maguro (Tuna), a slice of Toro (Tuna Belly) and a cute little Amaebe
.
Words cannot describe the freshness particularly Toro. Don't you just love food that just melts in your mouth? I DOOOOOOOO .....
I loveeee the Amaebe too. It was so sweet and slightly crunchy!
This place rocks man, it rocks! By this point, I was constantly straining my neck to look out to what's to come. Feeling excited like a child, but still trying to remain calm. Anyway ... the next item were a grill dish called
Grilled Rock Fish with Salt.
Rock fish eh ... it looked kinda similar to our Ikan Merah but the on diet version.
Again, fresh and sweet. Absolutely well prepared with its skin slightly charred, but everything else beneath were soft and juicy. Lovely.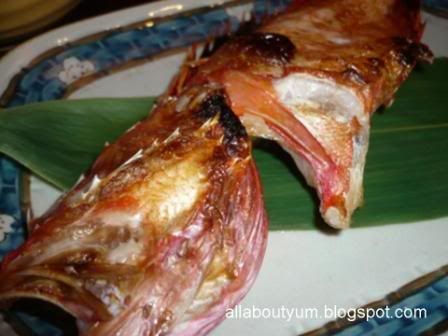 "How many more to go" I asked Osamu-san as he did the ordering.
"Four more." came the short reply.
Up next were
Tempura
dish. I didn't know what to expect as the batter usually does not clue you in to what's beneath unless its oddly shape. The one I recognise right infront of me were leaves. Yup. Daun. And it was good, though I was merely tasting the light, airy batter more than the leaves flavour. Pretty addictive stuff!
I picked up another oblong piece, took a bite and swooooonnnnn ... firm, juicy King Crab meat ravaged through my tastebud. Beneath the pile were a piece of fish fillet and cuttlefish. Both excellent.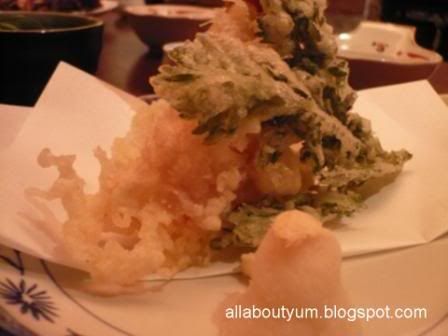 So far so good, until this point where we were served Maki. I had the
California Maki
while Osamu-san had the Soft Shell variety. Though it was fresh and tasty, I though it was mediocre like what you can get elsewhere. Perhaps, I'm not such a maki fan.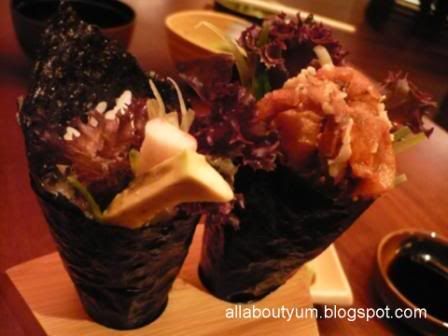 This soup arrived together with the Makis and was meant to be eaten together. Simply called
Rich Fish Miso Soup
, the name itself contradict its taste which was definately not rich at all. Though chunks of Salmon were in it, the soup was delicate and light.
I love this version very much.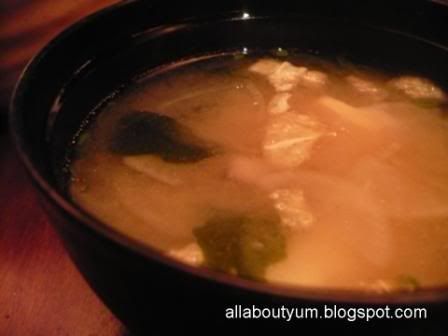 Ahhhhh ... all things must come to an end eh ...
Our last course dessert were three varieties of fruit;
Japanese Strawberry, Honeydew and Pear
. One word. Sweet. Oh no ... three words. Fresh and sweet.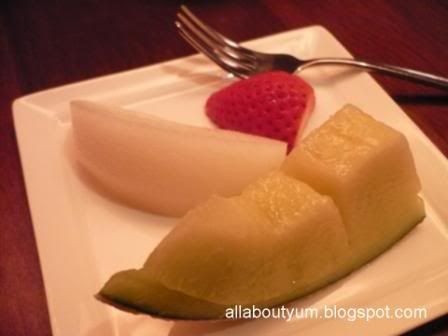 With that, we wrapped up our dinner happily. I thanked Osamu for a wonderful food adventure together (in this case, more of adventure for me) and wish for his success in his plans here.
Before I leave, I wanna share with you the

Choya Plum Liquor

I'd received from Osamu-san as a gift. Anyone tried them before?