A new lunch spot had sprunged up in The Curve, again.
Simply called Waroeng Penyet (the spellngs right, I've checked), it is a fame traditional indonesian style fast food, cleverly making its wave here due to the recent popularity of indonesian pop culture's the crawling into our scene in many imaginable way, lately.
Penyet meaning flatten, in Malay or Indonesian word is their specialty. Everything is flatten. From their chicken, fish, prawn to beef - the technique works marvelously at drawing the juiciness of the well marinated Javanese spice meat out.
As as start; I ordered a portion of
Batador (RM7.90).
Part curious, the tending staff made it sound like a unique concoction but when it arrived, Batador had a familiar taste to Gado Gado. With ingredients such as Fritter, Boiled Potato, Cabbage, Boiled Egg served with yummy peanut sauce - one can't help the similiarities.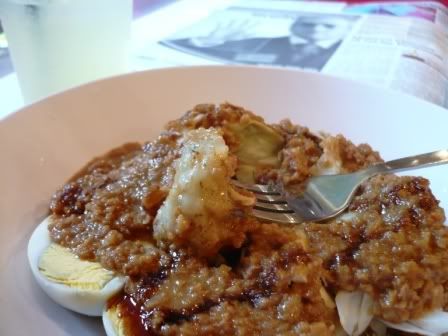 Since it is my first time, I tried their famous
Ayam Penyet (RM8.90)
. Flatten as promised, it was juicy and well marinated, indeed perfection as claimed that though pricey for one piece of chicken serving, the place is packed to brim for its sheer deliciousness. What I'd also liked about this dish is, it came with generous portion of super, hot and flavourful sambal chilli. Dip the ayam penyet into the chilli, pop them into your mouth and you've got a smoking flavour that's uncomparable. The crunchy flour, adds a further kick.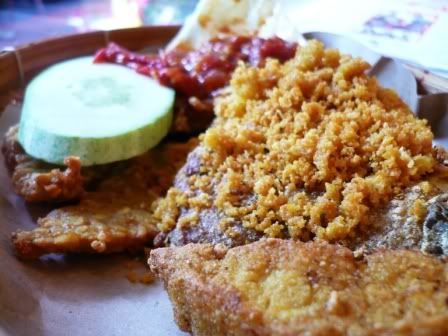 I will be back for the Black Pomfret Penyet and Cat Fish Penyet *drool*