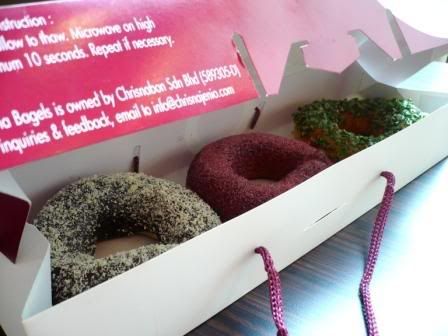 Vienna Bagels tagline ... baked, NOT fried, as how I've always thought them to be.
Only a week ago that, I've tried these cute little bagels that's not quite what I've experienced many years ago. Bagel that had jumped on donut bandwagon, with its vast selection of toppings ranging from cheese base, nut flakes, chocolate coating, to well known flavours.
I got my hands on three
(3) pieces for the price of RM7.50
. Seen here from top; Cheez&Chivez, Roselle and Le Chocolat Fromage.
a)
Cheez&Chivez
- Highly recommended, it packs a cheesy punch flavour that's known to go well with Bagels. If you're a fan of chives, you'll appreciate it even further.
b)
Roselle
- Something sweet and sour, an unconventional combination on a bakery item. I was surprised with the delicate floral flavour that comes with it and kinda enjoyed the taste against the soft dough.
c)
Le Chocolat Fromage
- Coated with dark chocolate and sprinkled with another layer of parmesan cheese, it taste as sinful as it sounds that I don't want to know how much calorie this little devil packs.
Overall, I enjoyed all of them.