Eversince turning into a food blogger, my supposedly planned activity can suddenly take a dramatic turn whenever I come across a new outlet to blog about. It was a leisurely Sunday morning, right after breakfast that I'd decided to take a drive to nearby shop to check out some kitchenware.
Then, I spotted a newbie.
Simply called Traditional Recipe Restaurant. Now, if you are me, having grown up in a city, with more and more Fast Food and Franchise Chain sprouting about, what would you do? It says Traditional, you know TRADITIONAL. Alright, I think you got the point *laugh*
Seriously, what constitute traditional food in Malaysia? I was also part curious apart from being simply greedy.
The menu were extensive. They have all sorts of imaginable e.g Hand Pull Noodle (Pan Mee) -which I did not order. It's quite popular apparently, as a few patron actually stopover to doggie bag them. The one that caught my eye were their huge banner promoting Chang (Glutinous Rice) from a supplier called YY. Famous Dumpling. Not only they have all the usual Chang from Cantonese, Nyonya, Golden, Hakka etc .. they even serve Gourmet Chang, which looked like a huge gigantic football from the pic, supposedly stuffed with abalone, scallops, sharksfin, and what not. Priced at RM198.00 per kg ... priceyyyy.
I settled for their
Golden Chang (RM7.80)
.
It was DELICIOUS, MOIST, FRAGRANT mouth watering Chang, packed with ingredients and fragrant. It came laden with siew yoke, char siew, special lap cheong, chestnut, mushroom and so much more, that I regretted ordering two more other item. This itself satisfied my craving already. Nice.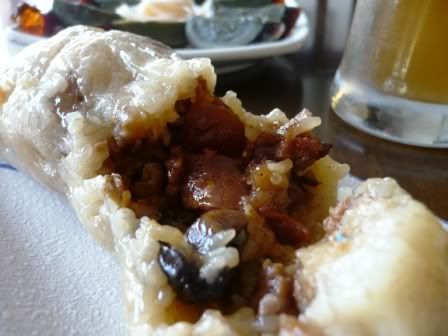 Apart from main, their selection of small eat were extensive. If only I had more stomach space, I would have ordered their recommended Traditional Tofu, Chicken Floss Roll, Yam Abacus, Lui Cha etc ... but, I no cow, so I settled for
a portion of
Century Egg (RM3.00)
which I did not expect its portion to be so huge. The taste were stinky and creamy. Lovely.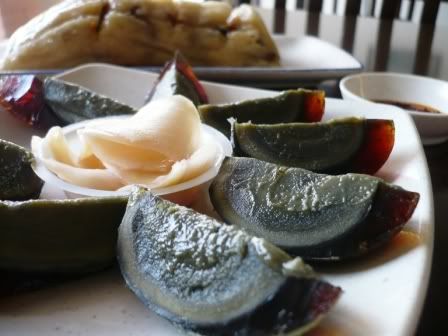 Alright, I'm a pig. They had this thumbs up sign next to the picture, so I can't help but top up my order. In the pic, the
Shanghai Dumpling (RM6.00)
spotted green skin in a Kei Chi Soup base, but when it arrived, it was like this. Plain looking.
.. . Why mislead the customer?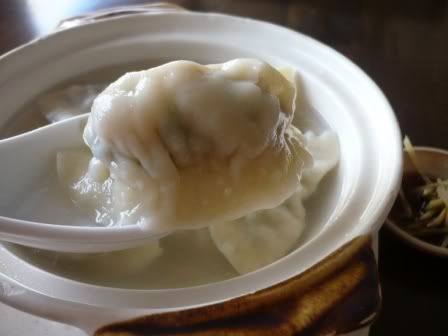 THANKFULLY, the taste were really good. Stuffed with generous portion of minced pork meat and chinese parsley, the ingredient were rather simple but was well made as it was fresh and generously stuffed. For the priced paid, it came with six (6) pieces which I felt, can be a meal on its own. I like this, a lot.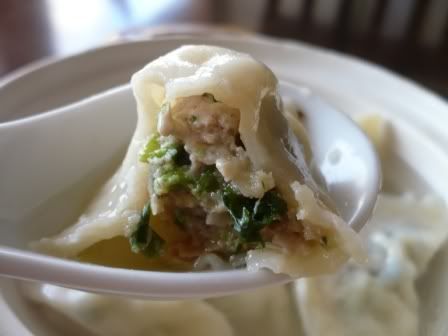 Did I finish all of it?
Yes, I've just finished it a while ago. They offered to doggiebag my food, without asking.
That's my kind of service. A plus point.