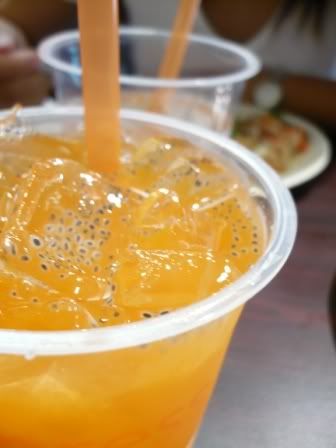 Yesterday evening, I made my way to The Curve for my bi-monthly meeting with my nutritionist. Draggggggggged my feet there.
Why ? Well, I've been skipping my replacement meal lately and I know, I would either be at maintenance stage or "failure story" stage and it is simply unacceptable! Am
DESPERATE to loose it after all my glutton trips, and more so, year ends here and I've got two more major trips planned within this quarter. I know food's definately in the agenda, so might as well do something about it now and glutton without guilt then.
Besides, must look good during trips la *cheesy smile*
Me and sis usually opt for Sakae Sushi for the meet up, as they have quite a good selection of guilt free dinner. But Sakae's always packed to the brim and it makes me wonder why. I mean, the food is not super fantastic, nor its super reasonable priced for its quality but yet, you will get people queueing for a table during dinner time *shake head*
Hence, we'd decided to give Thai Express a try. But before that, we weight ourself first ANDDDDD ... (drum rollllll) ... I LOST some weight!
I was soooooooo happy. Soooo proud of myself. But ahem, try not to get it to my head too much as I have longgg way to go so this was my dinner.
Before my meal, I had with me a glass of NO IDEA WHAT sweet sour drink called
Pattaya Something, Something (RM7.90)
. Taste like calamansi with a heavy dosage of sugar syrup. What's with the colour? I didn't enjoy it at all as it reminded me of all the coloured beverages Thailand is so famous for. As I sip it slowly (I only manage to drink quarter of it), I had images of the colour staining my tongue just like how I use to get them from sucking coloured ice lollies when I was a kid.
All I know is, it sure is an expensive drink for something not quite good for your body.
NOT recommended.
Moving on, I did a take on a new addition to their new menu after being informed that they don't have my initial salad order of Pomelo Salad. Seen here,
Fish Salad (RM16.90)
which was another dissapointment to me. I had expected some proper slices of fish fillet to be served at such price, but instead, was served a batter filled savoury salad, which totally defeats my purpose of keeping my weight off.
Taste was really not too bad, especially when the fritter were eaten with the sweet sour peanut dip that it came with. The pretty swirled up noodle were a surprised too. Also to be eaten with a dash of the dip, it reminded me of the famous vietnamese cold vermicelli dish, minus all the grilled meat frills.
Overall, the food is average but if I were to equal it to what I'm paying, its definately something not worth it.