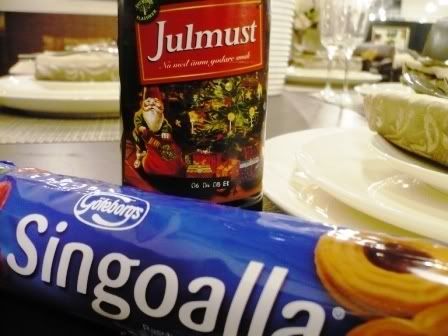 I love it when Christmas is around the corner. Not just for the variety of imported chocolates, cookies, bakeries, beverages and special goodies brought in from abroad for us locals to celebrate end of the year with a bang - the sighs, sound and celebration that follows with yuletile season usually make me reminiscence back how the year had been so far, and how I'd like my following year to be.
I have been blessed well this year. Blessed that I met my special someone and I've never been happier. Blessed that everyone around me is safe and healthy. And blessed that I have all the I need taken care off.
Christmas is less than a month away. Have you prepare for the big day ?
Me. I'm
kinda
prepared.
I'm planning to throw a little gathering for my parent's friends at home. The challenge is, my parents are vegetarian and they are used to eating chinese food. So as their friends. But its Christmas. So here I am, still contemplating if I should proceed with what's plan (western vegetarian menu) or to go local, which I feel would be so odd. My dad whole heartedly supports whatever I'm about to prepare, but I would love to have everyone enjoy the food as much as possible and not have leftover. Therefor, the stress is already on!
But I loveee that kinda stress *big grin*
Alright .. back to snacks. Do check out Ikea for some Christmas goodies if you fancy them with a Scandinavian twist.
As for below, am opening them on Christmas day. Hang on for the review!