Pst, psssssst ... haven't you heard? Okay, I know it is old news *big grin* but I'd like to make this announcement again to, GO TRY!!!
Food Republic, one of Singapore's famous food court operator had opened its first food court operation in KL, Pavillion. Not sure of the exact date but should not be more than 2 weeks ago. Located at the basement floor, where the famous J-Co donut is, we KLites are sure lucky to have another 20 over choices of food court stalls to choose from. There's everything here, from Thai, Japanese, Korean, Local, Taiwanese, Western to this popular stall, serving Singapore food.
Simply called Thye Hong, I liked the way how the operate their stall. Instead of serving an assortment like the many other stalls around the food court, Thye Hong serves four signature eat only; Fried Prawn Noodle, Oyster Omelette, Char Kuey Teow and Carrot Cake.
I was rather hungry, so I did not hesitate to placed an order each for Oyster Omelette and Fried Prawn Noodle! Talk about greediness!
Showned here, Or Chien or
Oyster Omelette (RM7.00)
,
the oyster itself were not fried together with the rice/flour mixture but rather, was added into only when the omelette's ready. Irregardless, it was great to spoon up those huge oyster meat alongside the omelette mixture, dab a bit of chilli sauce on it and IN it goes. Though the omelette were rather normal, the oysters were plump, juicy and fresh.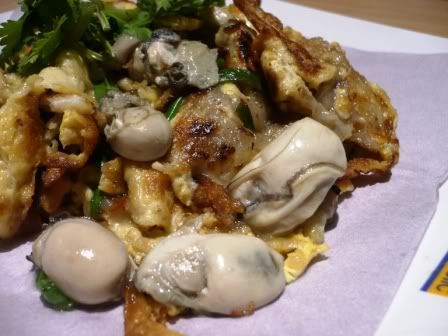 While a junior looking chap cooked my earlier Oyster Omelette, a rather senior, authoratative guy walked out from the inner kitchen to the open concept stove outside to prepare my plate of Fried Prawn Noodle. There were clips of newspaper article pasted on the glass front, as well as certificate of the awards they have won.
Wow, I was having good vibes already.
True enough, the
Fried Prawn Noodle (RM7.00)
were delicious. I though it was rather special as there's two types of noodle used here; yellow and white noodle which to me, was a great combination. The sauce were delicious, with light hint of soya sauce and mild cut chilli heat. If you like a hint of sourness, there's always a cut calamansi served together. But for me, I like them as it is, even without chilli. The wok skill from this senior chap, is evident here.
Not to be missed.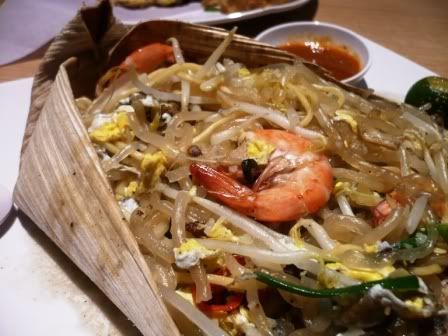 Though I was close to exploding after whacking up two plates of Singapore goodness, I simply can't resist this piece of
Traditional Cherry Butter Cake (RM2.50)
from Toast Box. This is such a nostalgic cake to me, as my godmum use to bake them during every Chinese New Year and I usually eat lots of them. But not as off lately, so I kinda miss it.
Toast Box version is really not too bad. Buttery and fragrant, but a tad sweeter than usual, Toast Box is another stall operator, whom specialises in Very Old School Straits Chinese food such as Nasi Lemak, Laksa, Toast Bread, Kaya, Cakes, and Coffees. Apart from Pavillion, they can also be found in Midvalley Megamall.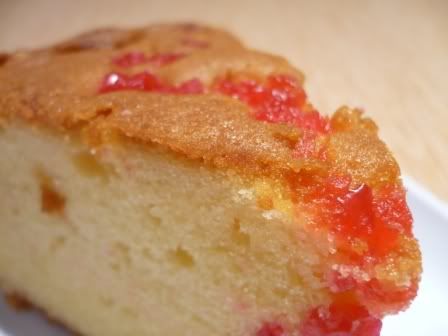 After food, I went for an eye check in Tun Hussein Onn Hospital. Thankfully, all is well and I'm not going blind (seriously, I though I was going too).
It's such a great day today.