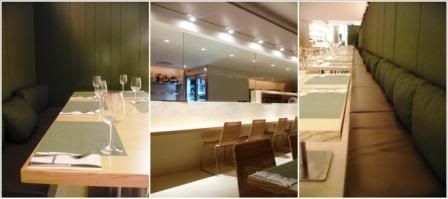 Mum worked really hard during her physio session today. I was soooo proud of her as she walked quite a bit - infact she walked a good 15 minutes around the physio room with another half hour each on knee weight lifting and other exercises combination.
After physio, I took mum to Midvalley and The Garden's for some shopping. Mum lovesss the mall particularly hugeee ones but dad refuses to bring her here, as he fears for not abling to locate where his car is parked. So here I am ... my off day and its nice to spent quality time with love ones.
Midvalley is Midvalley. Forever crowded. Hence after a while, the noise got to me. Since mum had gotten what she hinted (what else, food la), we headed towards The Gardens to check out Robinsons (their sale starts today) and peace, alas. Right next to the entrance of Robinson's were Chinoz. A place I remembered well when it started in Telawi Street. That was like donkey years ago and they were the ones that started the revolutionary "fresh and yummy salad" movement in Klang Valley.
I had vowed to try Chinoz at The Gardens, since the last time I spotted some lovely looking cupcake. The varieties were impressive but (ahem) I got derailed, as usual.
This was my late lunch from their extensive menu.
Roast Chicken Sandwich (RM20)
, which got my two thumbs up! Tender chicken breast marinated to perfection and sandwiched alongside grilled capsicum with a yummylicious pesto base sauce ... it was great stuff. The serving came with a portion of cold potato salad too. Not quite my style of potato salad as theirs came with pieces of celery and chopped olive, BUT it was another surprise twist that got me wanting for me.
Mum can't help but salivate as I ate them. But again, she had always maintain that I always look the part when I'm with my food *big grin*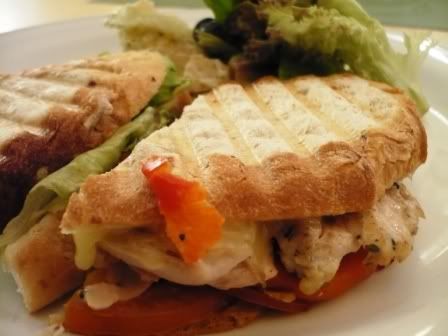 I care to explain why I derailed *big grin*. That's becauseeeee I spotted Churros!!!
I LOVEEEE churros. I've never came across anyone whom does not craveee for it if once they have tried them in Spain. I tried my first cup just outside La Boquería, Barcelona. The stall right at the entrance, on the left hand side. It was really good, BUT, it cost a bomb. I think I got cheated as, it was only 1/4 of the price elsewhere and it taste just as good so be warned.
Churros is essentially fried dough, Spanish style. Served piping hot, crunchy and sweet from the outside, salty and soft inside, the sin factor is the dip. The chocolate dip soooo thick, though they call it a chocolate drink in Spain, it is essentially a thick sauce of PURE, DARK goodness.
I was sooo excited when I spotted
Churros with Valrhona Sauce (RM20)
here. Not cheap, but I know it is not easy to make as I've tried making them before hence, gotta give it to their skill. I will never be able to get the churros straight like this.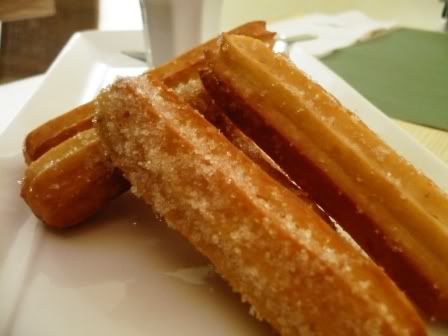 Look at those Valrhona sauce that came with it! Goodness!
Pureee heaven!