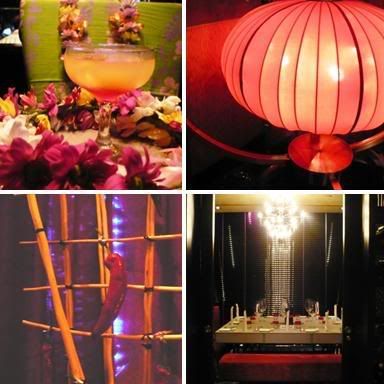 It was a last minute arrangement.
Of wonderful food, companion, location, gorgeous place, with lovely detailing to the event theme. A theme which we - the nine girl member Oysterette have each drawed out from a box, many months ago to celebrate our birthday's together. Running along this year, were a much simplier theme centering around a country name; much to our delight after a tough one the year before where we celebrated them with "Things You Will Never Do" theme.
I still remember the look on S face (another S), when she picked the note I scribbled on last year.
Note : Vegetable Farming.
S face reads : SHIT! *&#)@&@(*$%

The farming activity turned out well. As always, the girls each has creative streak in them and all is taken care off.
J picked a Hawaii theme for her birthday this year, where else no one can pull off an event in such a short period of time other than our dear S, whom is an old-hen in event organising.
S had chosen Uncle Chillies Pub in PJ Hilton, which surprised us as it is an old joint for many uncles (hence the name) living around Petaling Jaya, or PJ as how the locals call it. As I remembered it, the pub was a typical dark pub filled with elderly men leering at some ladies in short skirt, while gorging down pines of beer and shouting back forth from the top of their lungs to share their night joy or eye/beer feasting. In the back of our mind, the place is simply not happening. Images of Cheers TV program ran through my mind.
As we enter, our jaws literarily dropped.
Not only have they revamped the place to such chic contrast; they have even segmented the vast space into private dining and lounge area for group gatherings. We were urshered to a private room, not enclosed by wall but mere curtain where we were given enough privacy to keep us in and at the same time, able to enjoy the sighs and sound of whatever's going on at the main floor. Wednesday's a ladies night, hence our free cocktail flowed endlessly.
We started off with a portion of
Smoked Salmon Bruschetta
, whom me and E nicked from someone. Don't ask. Just someone and not from uncle, okay. Though the smoked salmon were commendable for its smokiness and smoothness, not much can be said on its bread toast.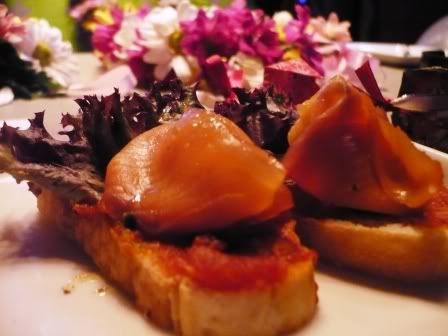 Spread across our odd shape table were portions of
Grilled Chicken Tender
, served with creamy, delicious Peanut Sauce that kept us wanting more.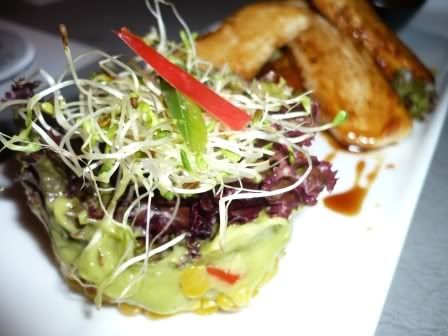 While some had Roast Duck Soup and Pumpkin Soup, I opted for a classic SF dish, called
Cioppino (RM22)
for simple reason that you hardly find them in Malaysia. The taste were much lighter and different in comparison to the authentic recipe I'd cooked. While I detected very mild saffron herb in its soup base, the tomato taste were non-existence. To make up the flavour, lemongrass were added in to lend its aromatic flavour which fortunately worked wonderfully. The only set back were its seafood ingredients, whereby it was not as fresh as what I'd expected them to be.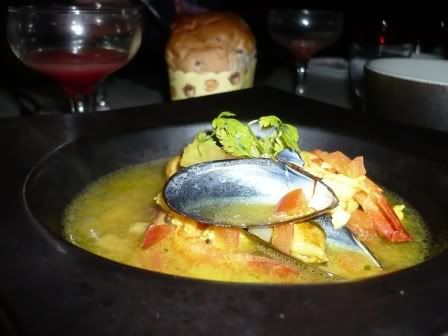 In seafood mood still, I had their
Salt Baked Canadian Cod Fish, served with Baby Potatoes (RM35)
. It seems out of place. Not quite the typical Salted Cod Fish I've eaten in Spain or Macau, the latter usually being prepared with complimenting ingredient to off-set its saltiness, Uncle Chillies version were pretty delectable on its own. Juicy and tender, with chunks of firm flesh in every bite, one does wonder if it is salted at all.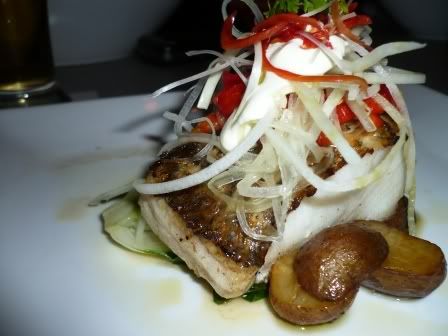 A birthday without a cake is like popiah without skin. In this cake, not one cake but many, many cakes of moist, delicious, generous
Cupcakes
spread across and adorned with trinkets of Hawaiian theme. It was a good choice of ordering J's cake from Marmalade. This is how it should be done. Pure indulgence.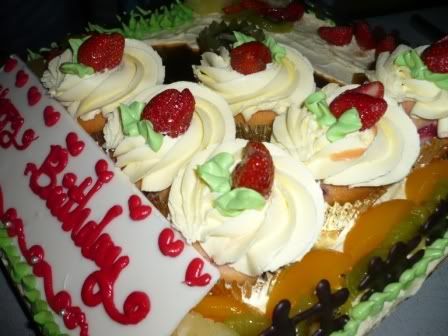 After the eating, drinking, chatting, cake blowing, gift giving and more, we boogied the night away and cam-whored like crazy, will all our trademark silly-ness which I can't reveal.
This is one of the decent pics of Oysterettes that I can share *grin* (please don't ask me why the name, thank you)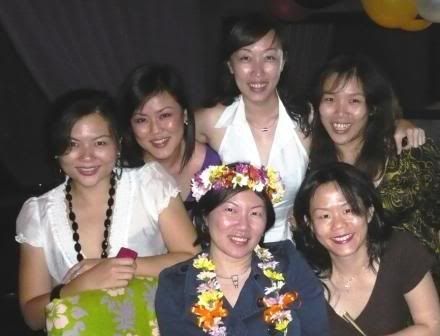 At approximately 1am, some of us staggered home to slumberbed while some adjourned to elsewhere. So here goes, my lovely evening with the girls. As always, looking forward to another one with them.
Oh ... one set back, the uncles are still leering around.