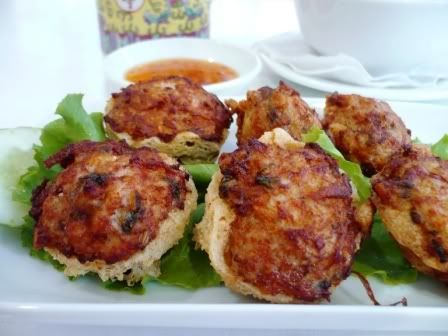 Running in circles, the choices for lunch spot were extensive.
After all, I was in one of Klang Valley's largest mall but somehow, I was at lost when there's simply too many varieties. I passed by my favourite Delicious Cafe, Vietnamese Kitchen and Sushi Groove. Called it indecisive, or confusion - I was caught in a situation whereby I want everything, but it was simply not possible.
After a quick browse at their menu's out side the respective restaurant, the noise from the concourse area nearby somehow got to me. A popular Hongkong actor were there promoting his latest movie apparently, and the whole of new wing were bursting with giggly teenagers, waiting to catch a glimpse of their idol. A lot of elderly admirer were spotted too. I was tempted to join in the buzz, but as always, my tummy's more important than who's who.
I walked further towards the old wing and discovered this charming little cafe which I use to frequent. Called Charms Cafe, the place was given a makeover too - with off white furnishing, but retaining its straits chinese feel, still. Fortunately, all my favourite item from the menu's still available.
For starter, I had their
Fried Tau Fu Pok (RM7.90)
- a fried tofu, stuffed with minced chicken and vegetable filling. It was crunchy, juicy and very delectable.
When I visit Charms, I always go for their
Fried Chee Cheong Fun (RM8.90),
which essentially is Fried Rice Rolled Noodle in Soya Sauce, cooked with chicken slices, beansprout, egg, red chilli and choy sum. Though delicious, I had problem finishing it as the portions were huge.
Wrapping up my lunch, were a bowl of dessert cum beverage called
Tong Yuen in Soya Milk (RM3.90)
. What a clever idea. Instead of submerging the Tong Yuen (Glutinous Rice Ball) into usual sugar syrup, they had it replaced with Soya Bean Milk, which I'd finished dutifully.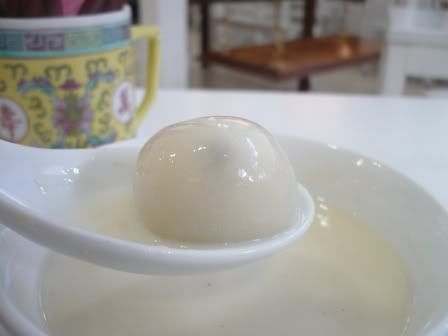 After hours, and hours of shopping, I stopped by this cute little cafe, hidden at the old wing. Simply called Yippee Club, they serve simply North Asia (Taiwanese/Hong Kong) snack food. There's a vast selection of Bubble Tea, Hong Kong Rice/Noodle and Toast Set.
They were running a
RM7.00 promo where a French Toast with Kaya (Egg Custard) comes alongside any selection of Bubble Tea Milk
. Not bad at all so I went ahead.
I chose the Sour Plum Bubble Tea Milk with Pearl. It was sweet, sour, refreshing and I had so much fun chewing the Pearls. The pearl as seen here, are these batch of black, chewy glutinous ball which are springy and tasteless, but goes so well with the flavoured tea.
But the highlight of this set must be the French Toast. It was utterly good. Cooked perfectly, with a slight moist texture in the middle of the french toast, it was slightly salted. Dipped them into the kaya and you get a OUT OF THIS WORLD snack. Very good!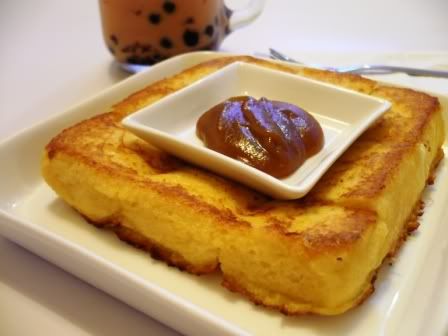 Not a bad day for an unconvention take of chinese food, the straits chinese way.