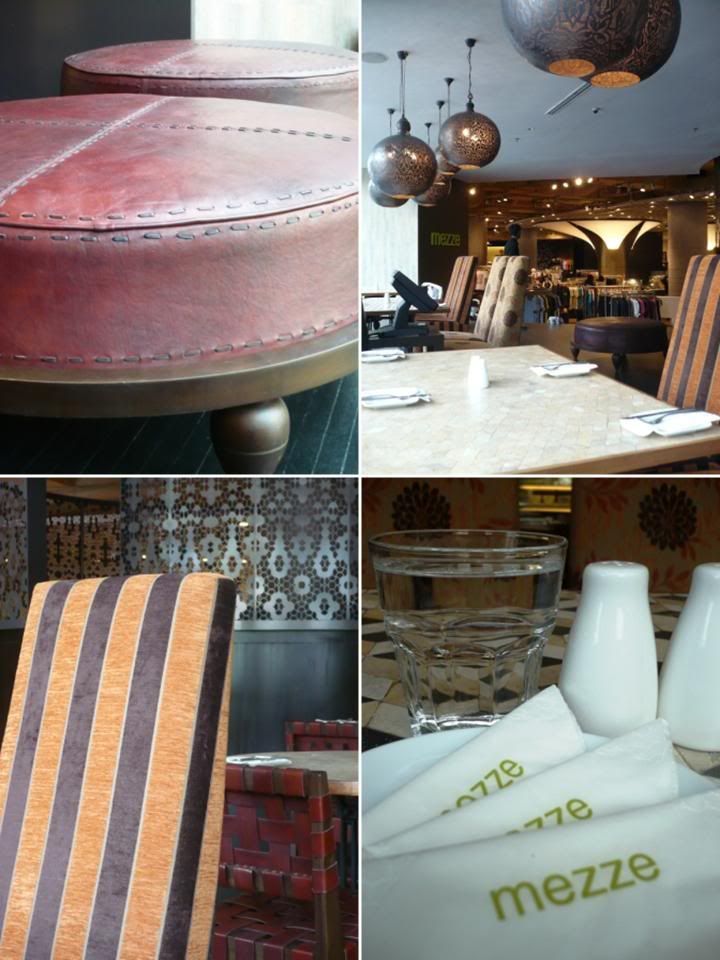 If you hunt hard enough, you will be rewarded.
I think this will be my food philosophy from now on. If you don't know me, well .. let me share with you. I am one of THOSE whom sometimes set her heart out to do something or go somewhere, but will end up doing something else all together or end up elsewhere.
Don't ask me why I'm like that. I'm just BORN like that.
But today, you must give me credit. I made it to Mezze, a chic Mediterranean style cafe, hidden inside Tangs Departmental Store after hearing about it from a friend. Hidden, I tell you ... no joke. You have to make several turns, ask for direction from floor staff and finally, after finding its entrance, you remain doubtful ... as you still can't tell if it is THE cafe or not as, there's Tangs merchandise being displayed right at their staircase leading up to their cafe.
Keyword. Persevere.
You will get there, like me *pat my back*
Just walk up a little and you will be transported to a place that's so unPavillion and unTangs.
Okay, I think I'm just being dramatic up there, but you get the geez of it. My message to you is, it is a hidden gem and I love it. Love it to the point that, I was stuffed after Food Republic but still manage to try out the below for the sheer knack of it *big grin*
For a start, I was presented with a plate of
Bread (FOC).
Love it, love it, love it! Totally spot on and rugged, this bread is so full of character. The bread itself were rather coarse and dry, like those I've tried in Dubai but, it comes with a hint of olive oil.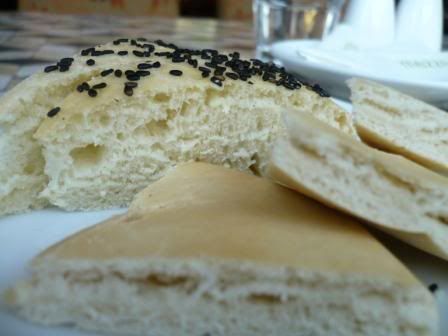 After several minutes, they serve me a small portion of unpitted
Green Olive (FOC).
Not too sourish, very juicy and slightly salted, it was really not too bad! Unfortunately, yours truly here can't tell her Greek, Spanish to Italian Olive type. All she could share is ... she enjoyed it very, very much.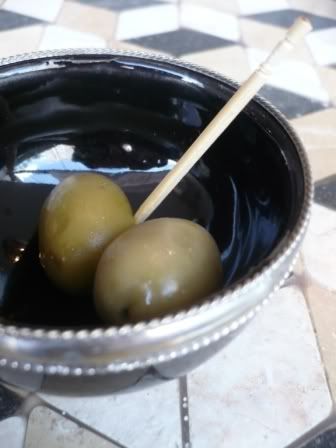 This is my order of
Potato Cakes with Halloumi (RM10)
from the Hot Mezze selection. Though the menu were not extensive, it gives you enough choices to munch on while catching up with friends in a cosy, hidden surrounding. The potato cake were delicious. With a hint of spice and seasoning, and topped with a small piece of Halloumi Cheese, the potato cake came in three pieces which I finished, in no time.
Loved the cheese. Sort of like Mozzarella but deeper flavour.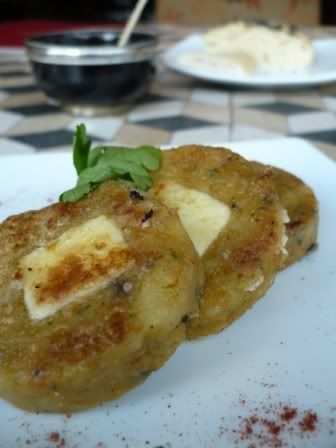 Came highly recommended from their wait-staff were their
Morrocan Milk Pudding (RM8.00)
Goshhhh! Everything about this dessert is perfect.
I love the taste of Cardamon and Rose water scented Milk Pudding, that lingers in your mouth. I love the texture of the Milk Pudding which were not too soft like Tau Foo Fah, but had a coarse texture which felt kinda sexy and rugged at the same time that you will think that you are transported to Marrakesh in that instant. I also love the fact that it was not too sweet.
I loveeeeee the glass too ...
What's with me! Did they drug me or something ?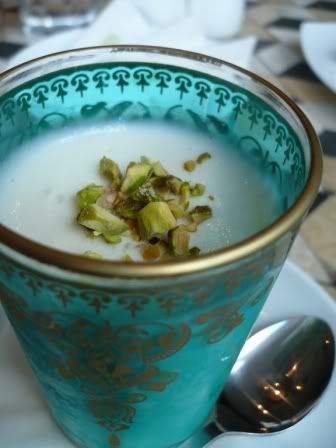 What an afternoon. Happy, happy, happy.
I'm fairly impressed with the food, service and ambience here so, I will be back to try out a few other notable dishes they recommended. If you happen to be in Pavillion, drop by and give this place a try.