Text Reads : Sakae's crowded, let's do Apartment. Already here. See ya!
That was the message we received from N, our Nutritionist. Yup. After all the heavy eating since September, me and sis had succumb to the fact that we NEED to get back to our meal supplement plan, FAST.
After all, we are only two months away to year end to finally conclude a result.
A mission is a mission.
We arrived at The Apartment, a quarter before 8pm. The place were crowded as usual. After taking a corner seat, away from the crowd, N pulled out her magic scale. With a quick customised programming based on our details, all sins were shown. Have we been drinking enough water, have we been taking too much of oily food, are we stressed, and many other indication of what's happening within.
I am happy to report that, I manage to gain below 0.5kg after all the heavy duty gluttoning.
0.4kg!!! My sis exclaimed. Not fair!!!
Honestly, I have been eating. But portion control is what I have been practising. While yesterday was a pure glutton day aka stuff it all in till you drop, I cut down to fruits immediately on my following meal. I changed my breakfast from regular Nasi Lemak to Mee Sup this morning upon spotting them in my regular stall this morning. Before you start questioning my Nasi Lemak breakfast every morning, let me explain - the mee sup make its appearances, once in a blue moon yeah ...
After the unexpected result, the menu laying infront of me suddenly looked so tempting. While sis ordered Portobello Mushroom to make up for the 1.5 kg she'd gain, I went head on with Chicken in a Bag aka Heavy Stuff.
Shown here,
Portobello Mushroom (RM16.90)
which were grilled to perfection with garlic, and topped with this super, yummy drizzle of pesto sauce. Oh gosh .. thinking of it makes me salivate. The mushroom were juicy and succulent, while the aromatic pesto sauce of basil leaves, parmesan cheese, garlic and pinenuts complimented it really well.
LEARN, I MUST.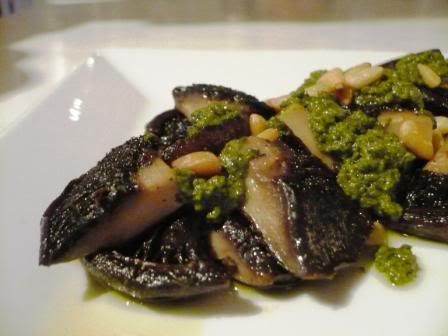 Moving from thumb up, to two thumbs up is their famous
Chicken In a Bag (RM18.90).
Served in an aluminium foil bag, baked to perfection ... the tender chicken pieces were given a thorough baked in a creamy whole grain mustard and creamy sauce, that's utterly delicious and oh soooo ... fattening. Spotted along were strings of leeks, canneloni beans and carb laden new potato.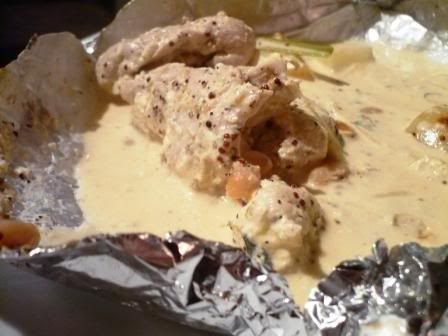 Alright. Mee Sup for breakfast tomorow.
If they have it.