Comfort food to me usually involve some form of braising, food I ate constantly while growing up and/or pork.
It need not be complicated, or comes laden with what not ingredient from top notch producer or gourmet ingredient from corners of the world but just pure wholesome flavour, that when cooked right, it is something that I can eat day in, day out for a long time.

Today was such a day when comfort crave hits me. I was in Ikano area for work today, and fortunately too that not all the cafes/restaurant are halal. Ying Ker was my choice for lunch. They serve homecooked Hakka cuisine, in a zen-like ambience. When I walked in at 12noon, the place was already buzzling with customer. Believe it or not, the patron after me had to wait for a table. I was fortunate to be a few seconds quicker.
I knew what I wanted, as I have had lunch here before. They serve many kinds of pork dishes, as well as other notable Hakka dish such as Chicken in Rice Wine, Abacus Seed, Ginger Duck and many more.
Before my main, I had a portion of Fried Lotus Biscuit (RM8.00). It is essentially thin slices of lotus root sandwiching a marinated pork paste, then later sending it to a deep fry till golden brown. I must admit that I really liked it. The lotus root were slightly crunchy and juicy when I bite into it. One word of caution, be careful when eating them. It is very hot.
My main was
Steamed Minced Pork with Vegetables (RM11.90)
. Although I constantly pick this wholesome dish whenever I have mixed rice, this is one dish that I will never get bored off. Sadly, I have never learned to make this well. I know, I should.
Their version made me reminiscence my mum's cooking when I was little. It had such a homely taste to it. Not only was it seasoned delicately, the porky flavour weren't heavy. I suspect they added corn starch to the dish, as it tasted creamy and smooth. Only thing that's missing here are the gravy/juices - the extra juices that oozes out from the meat during the steaming process. It would be great if they improve on that, so that I can drizzle them on my white rice - just like how I eat them when I was little.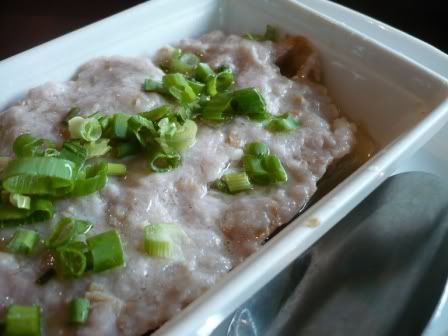 The odd thing about dining in chinese restaurant I must say is, they never learn to serve the right courses, at the right time. Take for example my dessert. It was the first to arrive, while my appetiser was the last. I know it is something that westerners frawn upon, but its norm here. Though puzzling, I had my lunch like a typical chinese - savour whatever's on the table.
And I did. It was a good ending. A comforting end to my lunch with a portion of
Boiled Snow Pear with Rock Sugar (RM6.00
). Though too sweet for my liking, the pear were soft to the bite, with lovely crunch coming from the Snow Fungus.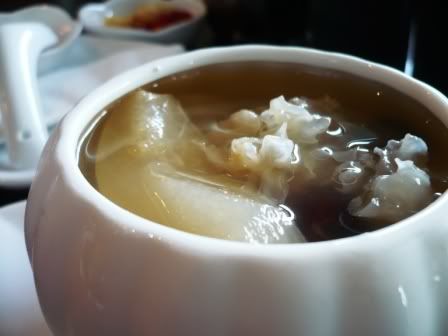 # Must learn to make some of the dishes here one day.