I'm officially porting over.

Its a sad, sad case really. The blog provider, whom happens to be a huge, internet giant company had suddenly decided that their blog business is not ranking enough dough for them hence, they are shutting them all down. Mind you, before doing so, they even had the cheek to concoct a lustrious, beautiful story - that they are coming up with better version - yadda yadda yadda.
But why need to down it for a few months ?

Thankfully, a dear friend of mine works in the company and of course, internal source is always more reliable than what they tell the outside world - I sure am thankful that not only I'm enlighten towards the right path, my dear friend will also help me port the data over to here. In time to come, so stay tune folks!

So here you go, this is my new blog. This blog is about my food journey within Klang Valley and Malaysia. Occassionally, food blogger's get together cum eating session will also be featured.

Starting afresh, I've decided to give you a lengthy entry on my lunch adventure near work place today. As usual, I have to be at the outlet to get some photography done, alongside some meeting with media owners.

Stress, stress .... as usual *laugh*

But alas .. the moment that I look for, something I have been eyeing for a while.

Shilla, a new Korean buffet restaurant at The Curve was my pick for lunch today. The place were rather empty throughout my whole buffet experience, what they serve was really not too bad but, I figured the location is pretty much hidden so much so, that many people don't even realise there's a Korean Buffet restaurant at the Curve.

Enough of babbling .. here's what I ate.
Octopus Kimchi - which was pretty chewy, though tasty and appetising.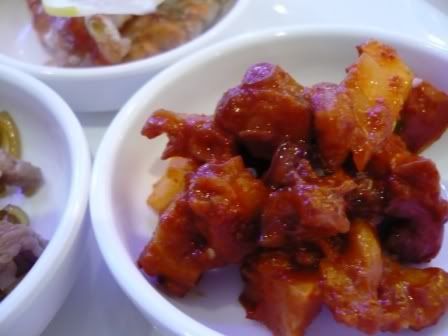 Stir Fry Glass Noodle - Unlike my experience in other Korean restaurant, theirs were pretty chewable and tasty. I'm not sure if the meat slice showned were beef ? I had a bite and it tasted tender, though no beefy smell .. it was rather good.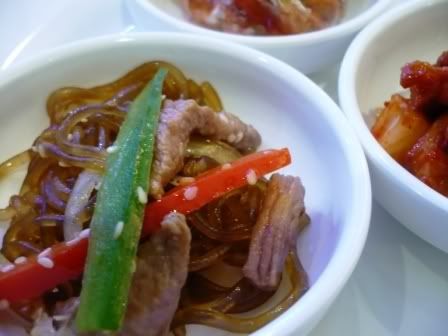 Deep Fried Soft Shell Crab, accompanied by Hot Sour Sauce. Since this was a buffet arrangement, it was a bit soggy by normal standard. Taste were rather normal too.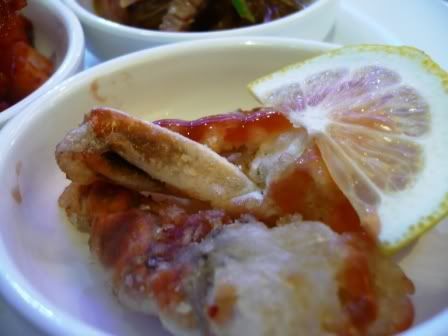 Root of a Korean flower, served Kimchi style. Rather interesting texture, similiar to Ginseng Root but crunchier. I like its sheer simplicity.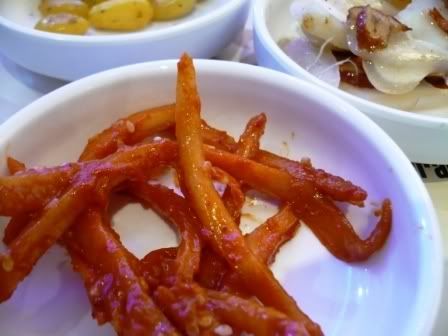 Grilled Gingko Nut - Unexpected bitter taste, after an initial creamy texture when popped into the mouth. It was not too bad, but I kinda suspect its the lack of heat that turned the bitterness in?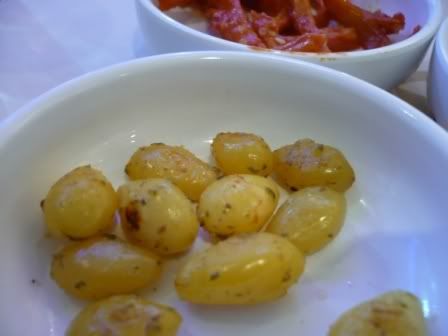 Another miss, but strangest I've encounter. The prawn was absolutely fresh, mind you but it had no taste whatsover. No prawn taste, no sweetness, nothing at all. What type of prawn is this!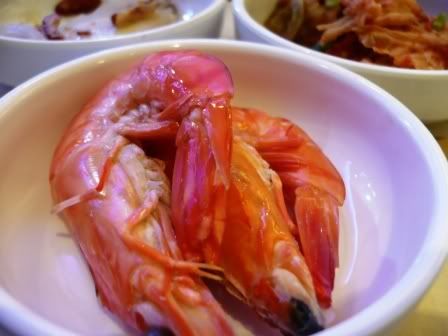 Ginseng Kimchi - One of my favourite. As known, Korea is fame for Ginseng. Having it as an appetiser, served crunchy style and lending its flavour from the sweet dates is something that I would love to have them often.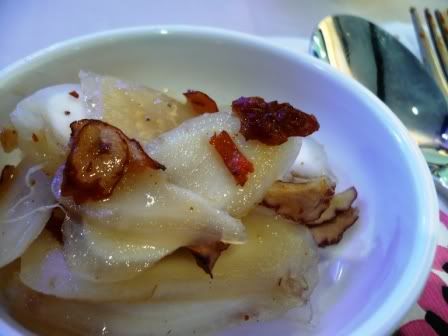 Korean Sushi's, Sashimi's and Rolls - All not quite up to Japanese standard with the exception of the roll, which I thought were ulterly delicious. The rice itself were creamier than usual, and came flavoured.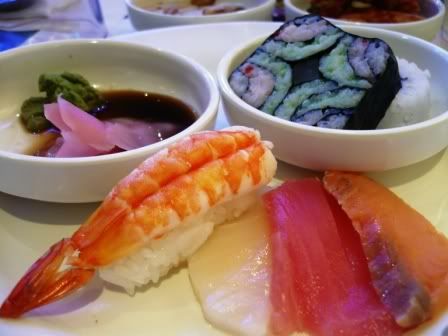 Oysters never let me down.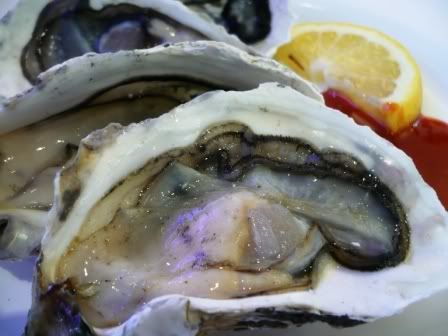 Chicken and Ginseng Porridge which was absolutely delicious. The ginseng taste were evident in every slurp, the porridge were so fine and creamy ... I'm loving this.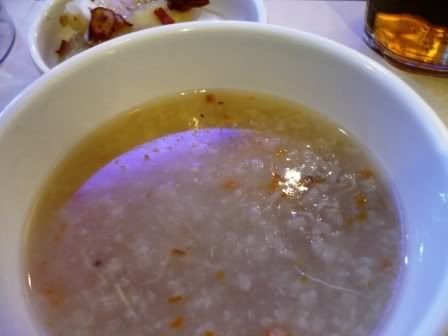 Wee ... another hit for me. Korean Kimchi Pancake, seen here looking angry with its red exterior but tear in open, pop them into your mouth and you will be rewarded with a pancake that is moist, creamy and slightly spicy with hit of scallion flavour. Yum!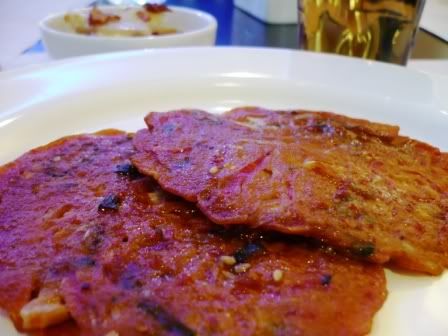 Moving on to main, I thought this bowl of Bamboo Shoots cooked with Squid were rather good. Sourish and spicy, it is delectable both on its own or with rice accompanying it.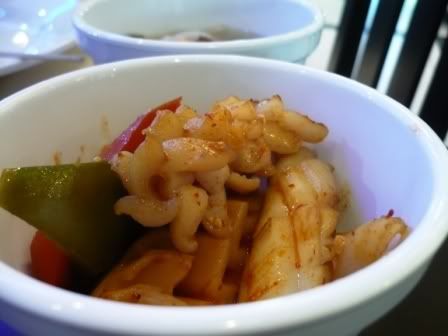 Looks like a noodle dish, but infact was a carefully sliced cabbage, cooked in a simple seafood broth. It taste so similiar to Malaysia's version of Loh Mee, minus the noodle.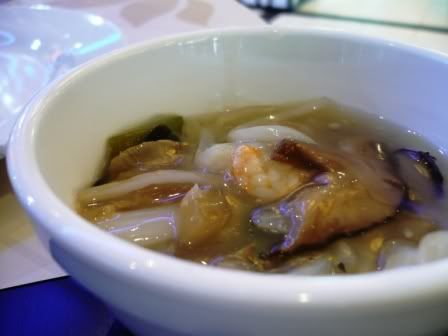 Meat skewer as how the name suggest, turns out to be Chicken Sausage cum Omelette cum Vegetable skewer, topped with hot sauce.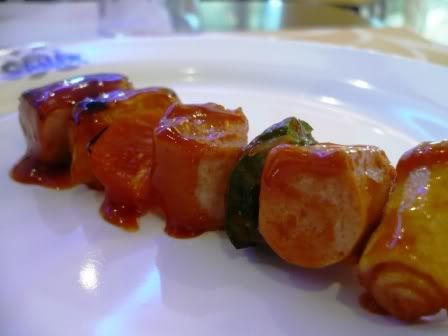 Grilled cockles showned here, looked dry from the outer but once out of shell, you will get blood oozing out from beneath. Looks appetising and fleshy BUT, BUT ... someone over seasoned it. Seen behind the grilled cockles were an amazing dish of Stew Chicken and Onion. The ingredient looked simply but I'm pretty sure, a lot of work went into it as the sauce itself had grains of herbs on it. It was utterly yummy, finger licking good.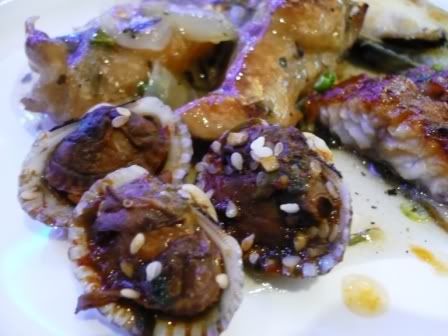 After the dissapointing cockles, everything went uphill. Particularly their Grilled Unagi, which was tender, moist, slightly sweet and flavourful. It was good. The Mussels Gratin were forgettable though ..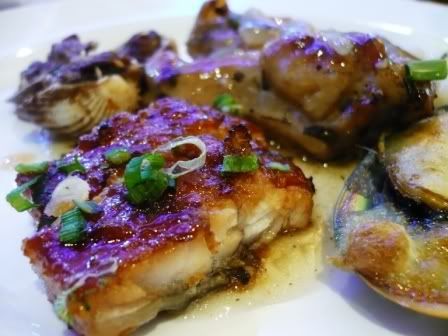 Celebration Noodle - Similar to Mee Sua, a kind of wheatflour noodle found here, their version's slightly thicker and denser. Taste was good and went along well with the basic soup base, something that I don't mind having during one of those days when you need something good for your body.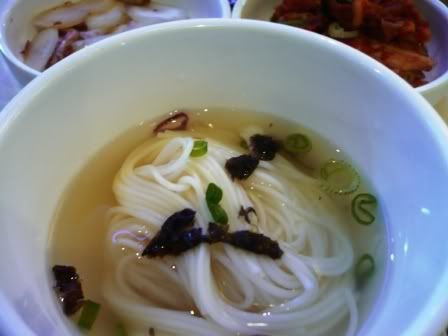 Steamed Sea Bream in Light Kimchi Sauce. Totally unexpected after the bad experience with their other seafood, their seabream were totally spot on. The usage of light sauce were so appropriate, to allow the freshness to shine through.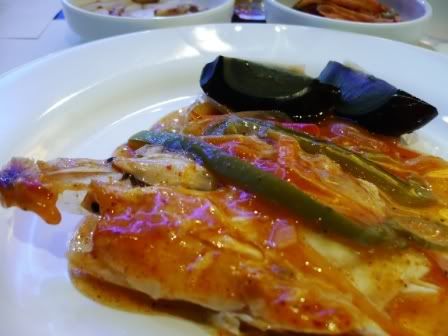 After all the eating; one tends to get a bit thirsty from the MSG used. I was surely glad to spot two korean beverages in the dessert counter. Strangely, why was it hidden there ? Anyway, I had their Pumpkin Seed and Rice drink.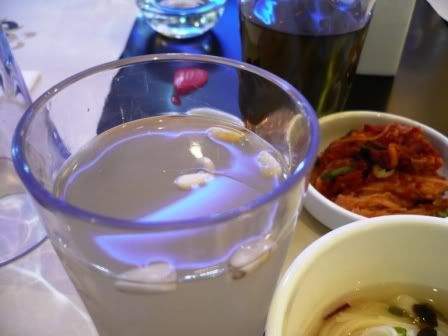 Continuing (thankfully, am wearing an elastic skirt) ... was a small bowl of seafood fried rice which tasted plain, hard .. not good. There's no seafood even. Upon noticing that, I went to grab a piece of Prawn Fritter's to accompany it. Another dissapointment. The prawn were nearly non-existence and are mostly made of flour substance. Give this a miss.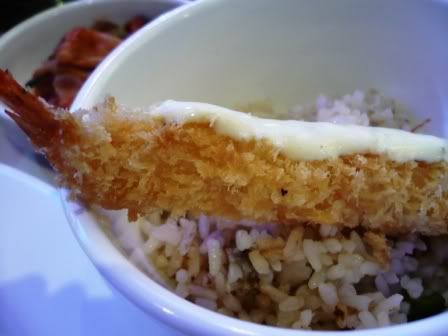 I notice one item in the dessert line that was quite in demand. It was their Japanese Cheesecake and so happen too, I'm a hugeee fan. True to the look and feel of it, their Japanese Cheesecake were absolutely divine, really! Don't take my word for it, just go try it. It was moist, slightly salty as how cheese are and rightly sweet. The texture were light, and when place in the mouth .. it just melts away. Lovely.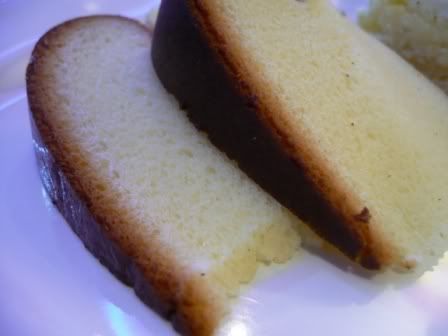 While the cheesecake was a hit, their plain sponge cake were plain.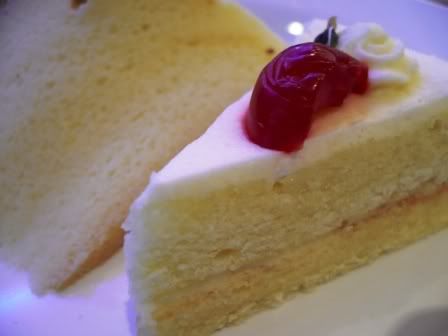 Can't help having another slice. It was really good.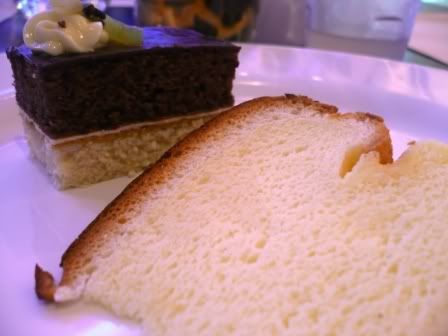 With all that my friend, is the end of my glutton journey in Shilla. The damage were RM44.50 (I think so) which I find, rather worthy. If you're in Curve and like me, lost on what to eat ... give this a try.