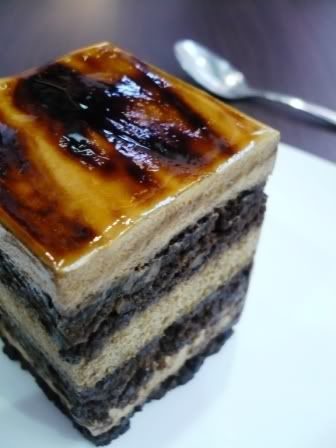 A short post on this new discovery in Midvalley Megamall. To think of it, there isn't many places in Midvalley Megamall that offers a good selection of dessert, as compared to the extensive list of eatery outlet there.
Secret Recipe had closed down. Boo. Dlish had taken over ... Yay!
But here's another place to try out if you're not up to Dlish's style of cupcake dessert. Do drop by Zen, which is located at the 3rd floor Middle Court. It offers a pretty interesting mix of dessert ranging from cakes, trifles and some other interesting combination which you can't get elsewhere.
I had a slice of their
Mocha Marble Cake (RM6.80)
just before leaving the Mall yesterday. It was simply delish! Made of creamy blend of bittersweet coffee layer, alternating with another layer of walnut biscuit ... if you love a strong coffee taste, THIS IS THE ONE.
Simply smacking!