Work meeting at Midvalley, took me to this japanese chain of restaurant during lunch.
Work had been hectic due to year end. Plus the fact that today's my second day in one of Malaysia's busiest mall, its taken a toll off my body and right now, what I really want to do is go hug my bolster and dream away. Tonigth will surely be a better night than yesterday - no thanks to the heavy dosage of caffeine I'd consumed in the afternoon. Part of the reason why I'm exhausted *sleepy grin*
Before that, let me share with you my lunch take at Sushi Zanmai, a highly recommended conveyor belt chain restaurant from Japan. I've tried their first outlet in Sunway Pyramid and liked it very much. Since my lunch buddy's a huge japanese food fan, SHARE I MUST.
This was what we had.
Unadon (RM8.80)
, one of their inferior dish. The unagi tasted scally and had pieces of tiny bone that turned me off. Otherwise, it would have been perfect as the taste was actually good.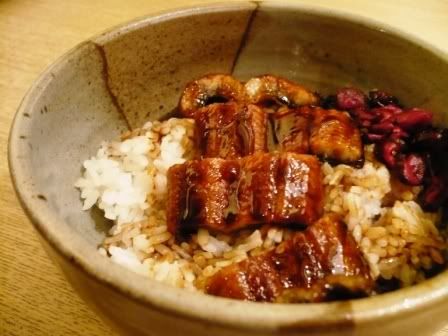 Kani Miso Shiru (RM6.80)
, soup based were a bit saltier than usual but overall, was quite a unique soup to accompany your meal.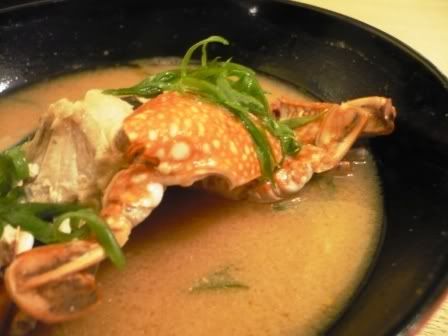 I had an order of
Chuka Wakame (RM3.80)
. The cold seaweed and agar agar were refreshing and delicious.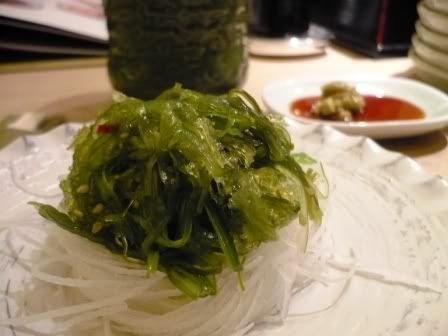 We love this so much that we had an order each.
Salmon Ikura (RM4.80)
which came with fresh cut of raw salmon and juicy salmon roe, nestled in Sushi Zanmai's signature sushi rice. I love the bursting flavour of these two combo in my mouth. Delectable.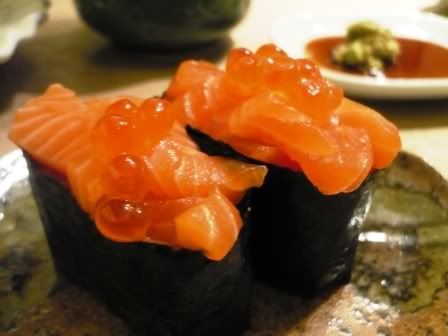 Japanese onions are really sweet and fragrant as compared to our local counterpart, hence I simply had to order these
Sake (RM4.80)
again. Cute shape. Taste was just as good.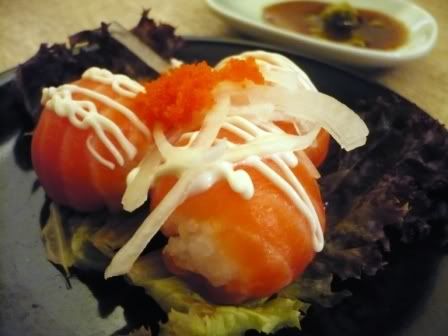 I had to order another portion. Love it.
Sake (RM3.80)
with Japanese Onion and Mayonaise. Very, very fresh and melt in your mouth. Simply can't get enough of it!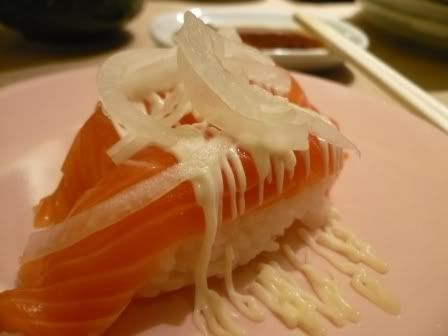 The black plate from the conveyor belt denotes that the item are specially created and are not listed in their menu, hence, no idea what its name were. Priced at only
RM4.80 a plate
, it is both visually attractive and tasted great too. Seen below are fried shrimp roll, wrapped with layer of japanese rice, mayonaise and bonito flakes.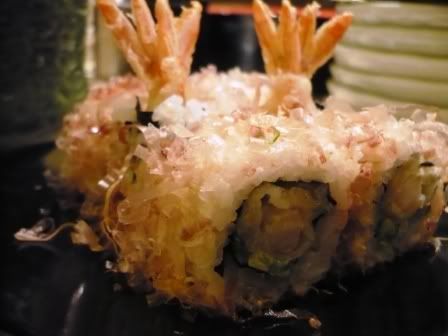 Sashimi Salad (RM12.80)
with Zanmai's dressing. This was J's salad, but I stole a bite. As expected, all the ingredients were fresh and Zanmai dressing with delicious and light too. It was a bit tangy and sweet. Love it.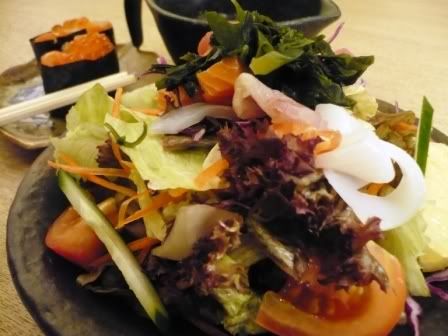 Almost perfect ending to our lovely lunch,
Matcha & Matcha (RM12.00)
with creamy scoop of green tea ice cream and cream, served with a substituted fresh strawberry as they ran out of Matcha Jelly. Still good neitherless as the green tea ice cream made up to it.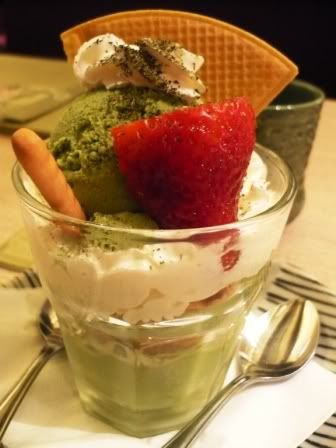 It was great lunch. I would definately return again.