Sometimes, I can get very demanding.
To illustrate my point - I headed towards my favourite place called Chocz in KLCC after completing my task at the travel agent. I was craving for a good cup of ancient Mayan style chocolate drink called Aztec but upon arriving, I suddenly recalled Masak Masak's review on The Lawn - a newly opened cafe serving light meals, refreshing drinks and sinful dessert - all trademark from its parent company Marmalade. So off I went to check out this newbie.
After having a quick glance at the cake counter, I took a seat to peruse the menu further. Don't know why, nothing caught my fancy. I wanted to try their cupcakes initially, but they didn't have the one I wanted. Instead, there's three other selection of Tiramisu, Oreo and standard Vanilla Strawberry - the latter which I'd tried during Joyce's birthday. I have no doubt about their cupcake quality but both the Tiramisu and Oreo cupcake simply weren't sinful enough.
I need something dark, really dark.
Hence, I returned the menu to the wait staff and started walking back towards Chocz. Somehow along the way, I ended up in Bakin Boys for their signature American style cookie *big grin* Must be Thanksgiving bugs in the air ...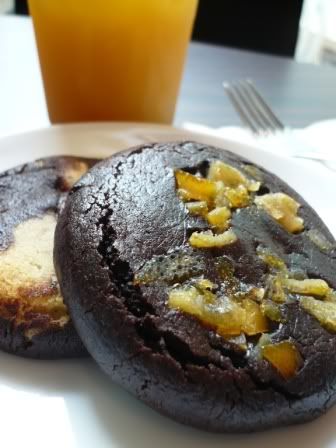 What pulled me towards them were their display of dark chocolate cookies ranging from Triple Heavyweight, The Martian Fellow, The Milkman Meltdown and many others. Everything looked and sound so wicked and good that I had hard time choosing. Alas, I chose
Orange Ovation (RM3.80)
from the Dark Variety counter as I liked the idea of having a citrus twist to my usual dark crave.
It was a good choice, albeit a tad sweeter than what I'd anticipated. I liked my cookie chewy with a nice melt in the centre, and this came with a good dosage! The orange flavour enveloped within were delicious and fragrant too. Wicked.
At the far end were other notable white variety cookie such as White Socialite, The Praliner, Coconut Cabaret, The Babanut and many others but I chose a semi white (ahem) called
Marbled (RM3.90)
. Simply cannot leave my dark crave there yeah ... another spot on for me.
Alas, I'm satisfied. It pays to be demanding sometimes.